TOP 10 FAMILY FRIENDLY RESORTS IN THE MALDIVES
THE BEST KIDS CLUBS IN MALDIVES RESORTS
Even though Maldives is well known as a couples destination and is famous for its private villas for honeymoon, it is quickly evolving to become one of the best destinations for families. Every year more and more parents ask themselves what are the best family friendly resorts in the Maldives, which are the best Kids Clubs in Maldives Resorts and what kind of activities for children in the Maldives you can expect.
FAMILY FRIENDLY RESORTS IN THE MALDIVES AND ITS KIDS CLUBS
Along with the luxury family villas in the Maldives, this island destination has not only amazing Kids Clubs, but also activities tailored to keep the young guests as little as 2 years old occupied throughout the day. Welcome to the list where qualified babysitters are as important as the best chefs in the Maldives; and where toddlers and teenagers alike enjoy an array of activities tailor-made just for them.
Here is our TOP 10 of the most amazing luxury family friendly resorts in the Maldives:
Written by: Shaibaan Khalid
Waldorf Astoria is a brand that knows well enough that adventures are not just for grown-ups; they created the Waldorf Astoria Young Discovery Park for little and young travellers. The Kids club at Ithaafushi Island caters to young guests aged 4-11 with dedicated separate programs for ages 4-7 and 8-11.
Kids under 4 years old are welcome to use the kids club and park when accompanied by a guardian, but if you feel the need to relax and unwind while your child is also having fun, Waldorf Astoria Maldives has baby-sitting service. How old can my baby be? Waldorf Astoria has trained, dedicated caretakers for kids from 06 months – 11 years old. Your Kids can also try their own dishes from salad and pasta making classes while you enjoy peacefully one of the 11 restaurants at Waldorf Astoria Maldives. From a baby stroller to trampoline, water park or Instagram classes, Waldorf Astoria Young Discovery Park has it all.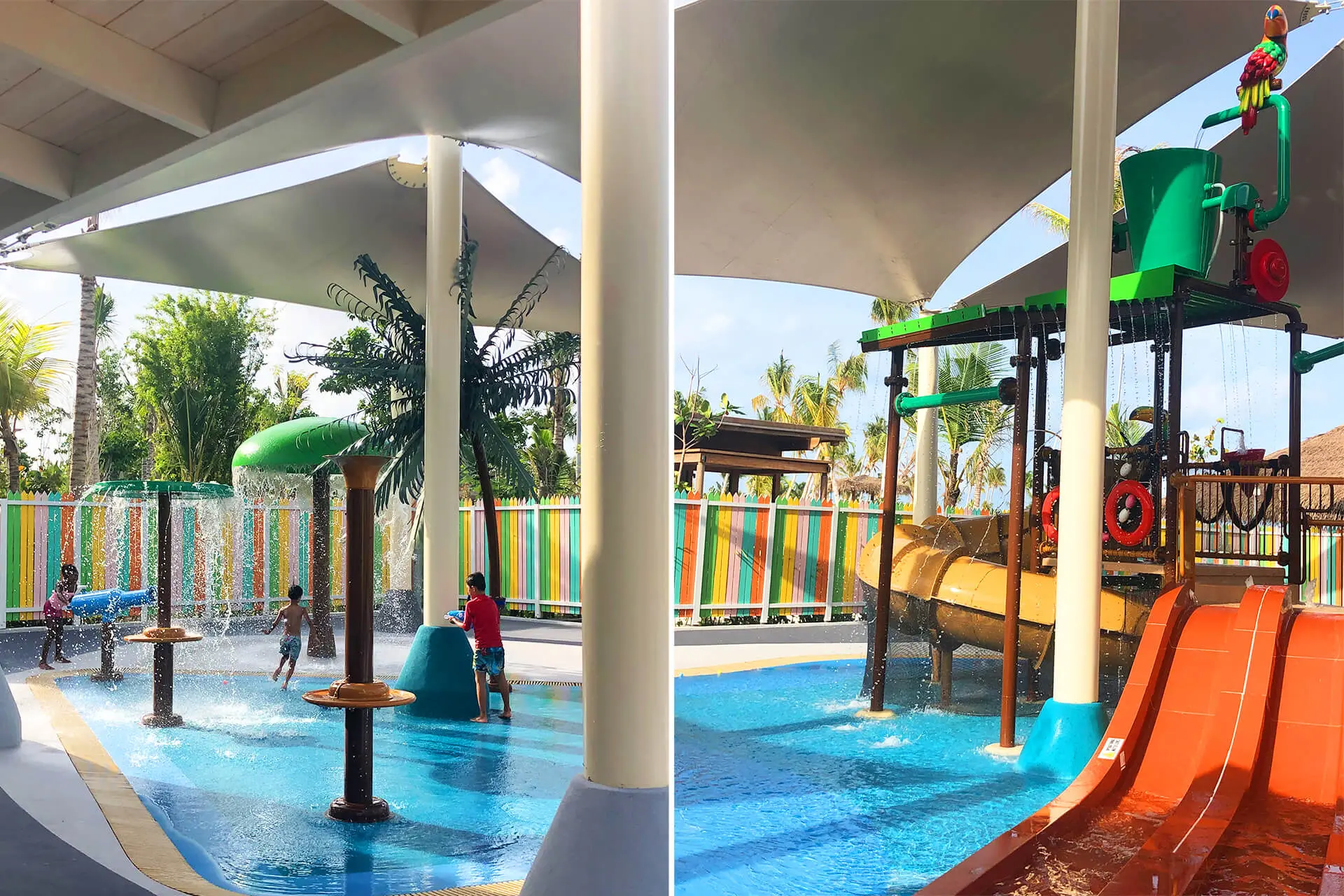 2. AMILLA FUSHI
Decades ago, a Sultan and a Sultana were stranded on an island when their dhoni became shipwrecked. This island is Amilla Fushi – in Divehi, the indigenous local language: 'my island home'. Inspired by this legend, the Sultan's Village Kids' Club at Amilla Fushi was created, committed to young guests as much as their parents. With a dedicated team of trained childcare hostesses, its own pool, indoor activities and baby sleeping rooms, this Kids Club at Amilla Fushi is one of a kind, and ensures your little ones get the best time and care they deserve. Children aged 4 – 11 can enjoy an array of weekly-themed fun and educational activities while the youngest children from toddlers to 4 years old can be taken care of by a babysitter upon request.
From Wednesday Pirates' Day to Saturday Pizza making class, the Sultan's Villaage at Amilla Fushi has a surprise for every single day of a week.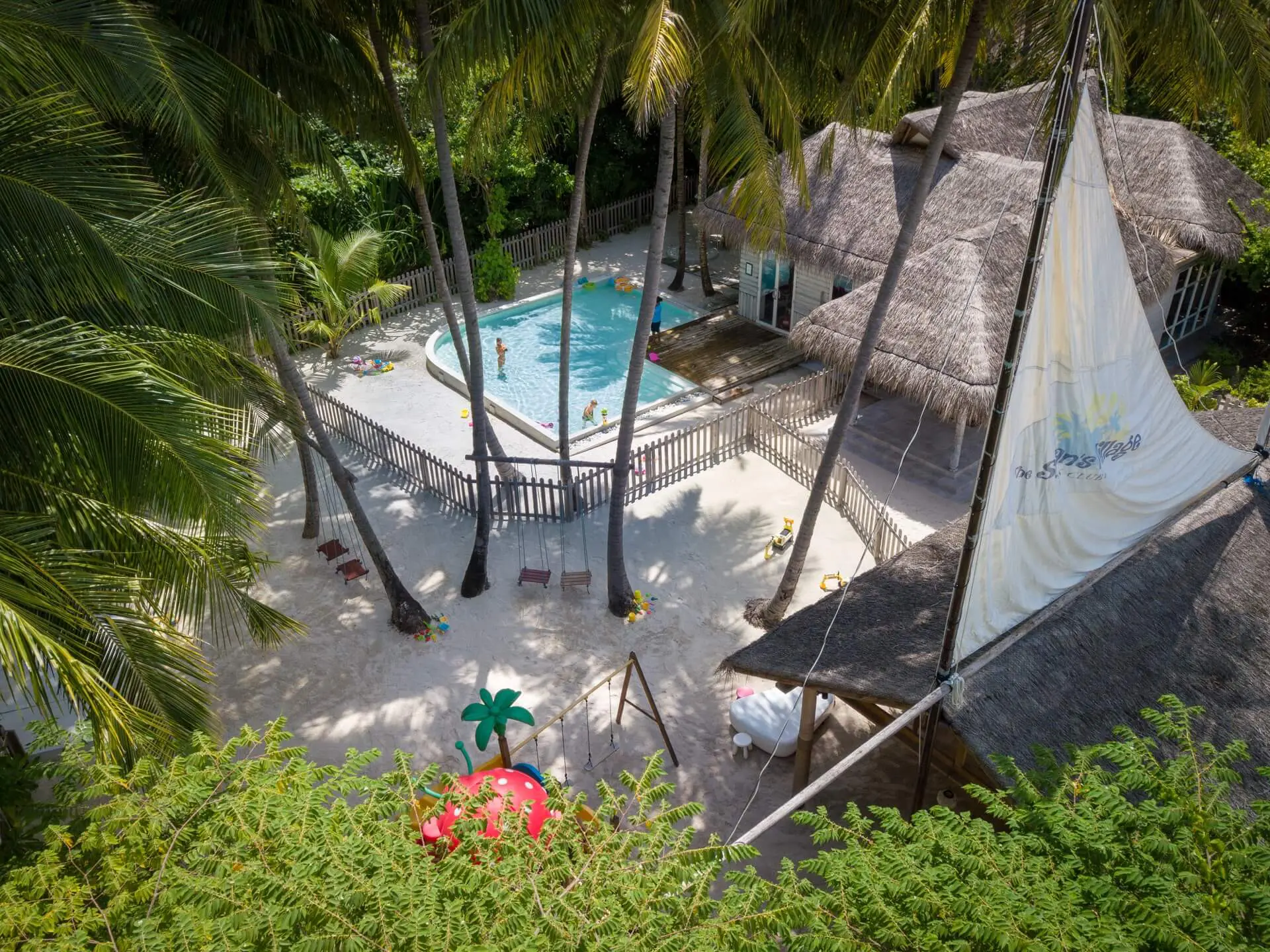 Kanuhura Maldives is well known for its Sun Kids Club. Inspired by the free-spirited, bohemian gypset concept the Kids Club is stylishly designed with a creative flair, just like the rest of the resort. Conveniently located, just few meters from the pristine beach, the Kids Club of Kanuhura features a splash pool with a three-metre purple flower waterfall, wooden jungle gym and plenty of activities in their spacious air-conditioned indoor areas. The young Gypsetters are guaranteed unparalleled hours of fun at Kanuhura's Kids Club from an exclusive kids' corner at the Boduberu lounge to a floating water park.
While you are making the most of your private time indulging in your well-deserved break, your children will be partaking in water sports, cooking classes or art and crafts workshops.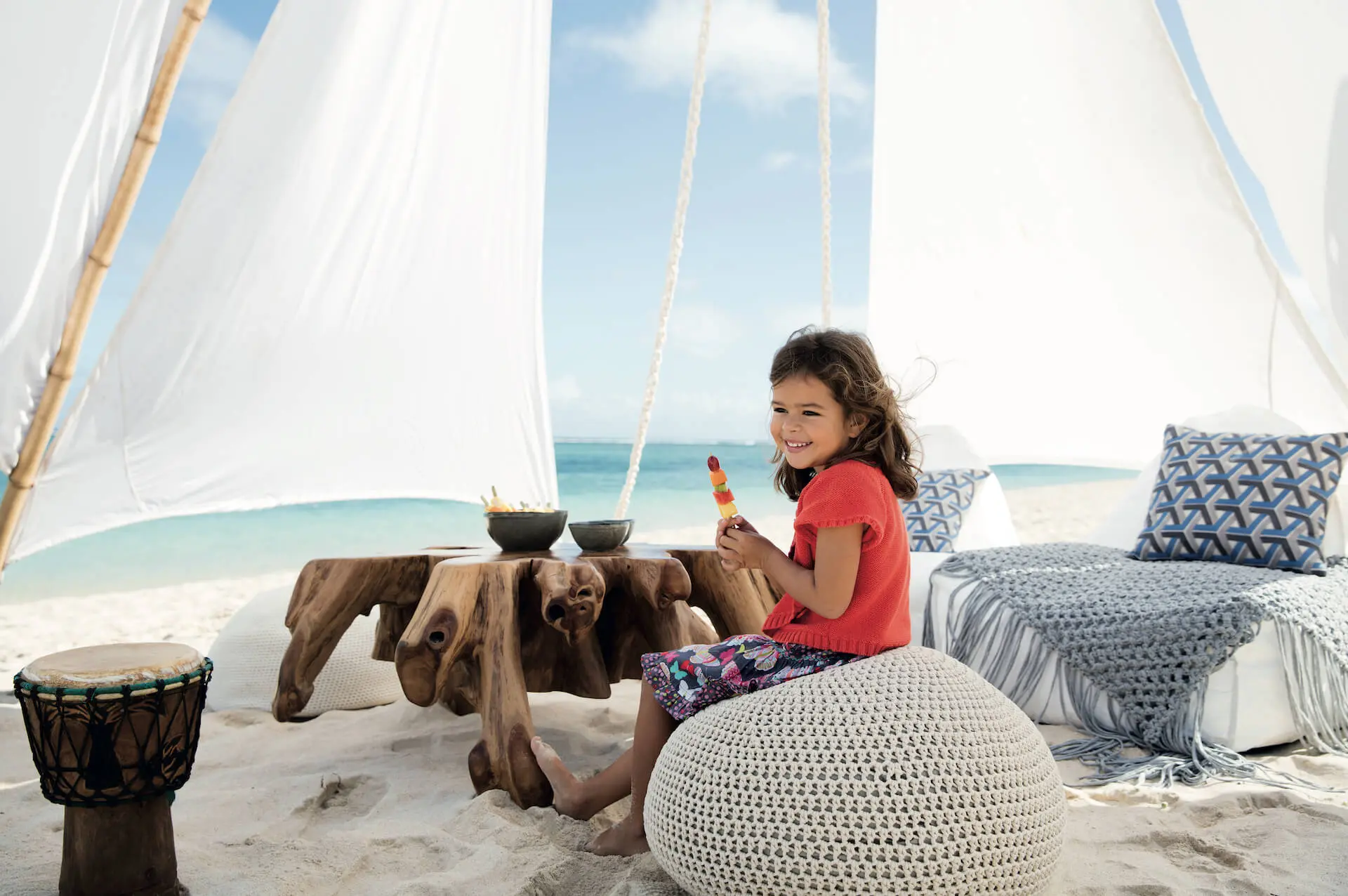 The Explorers Kids Club at Niyama Private Islands is insane. Amazing excitements await for the littlest VIP's, as the Club is set in the heart of the island and caters to the imagination of all ages. Globetrotters (12 – 24 months), Adventurers (3 – 4 years), Voyagers (5 – 7 years) & Pioneers (8 – 12 years) are joining their respective age groups at the Explorers Club, ready for the entertainment of a lifetime. From Dhivehi lullabies to dolphin scouting, from embarking on safaris to exploring island life.
Relax and unwind on this holiday knowing your little adventurers are well taken care of and literally spoilt at Niyama.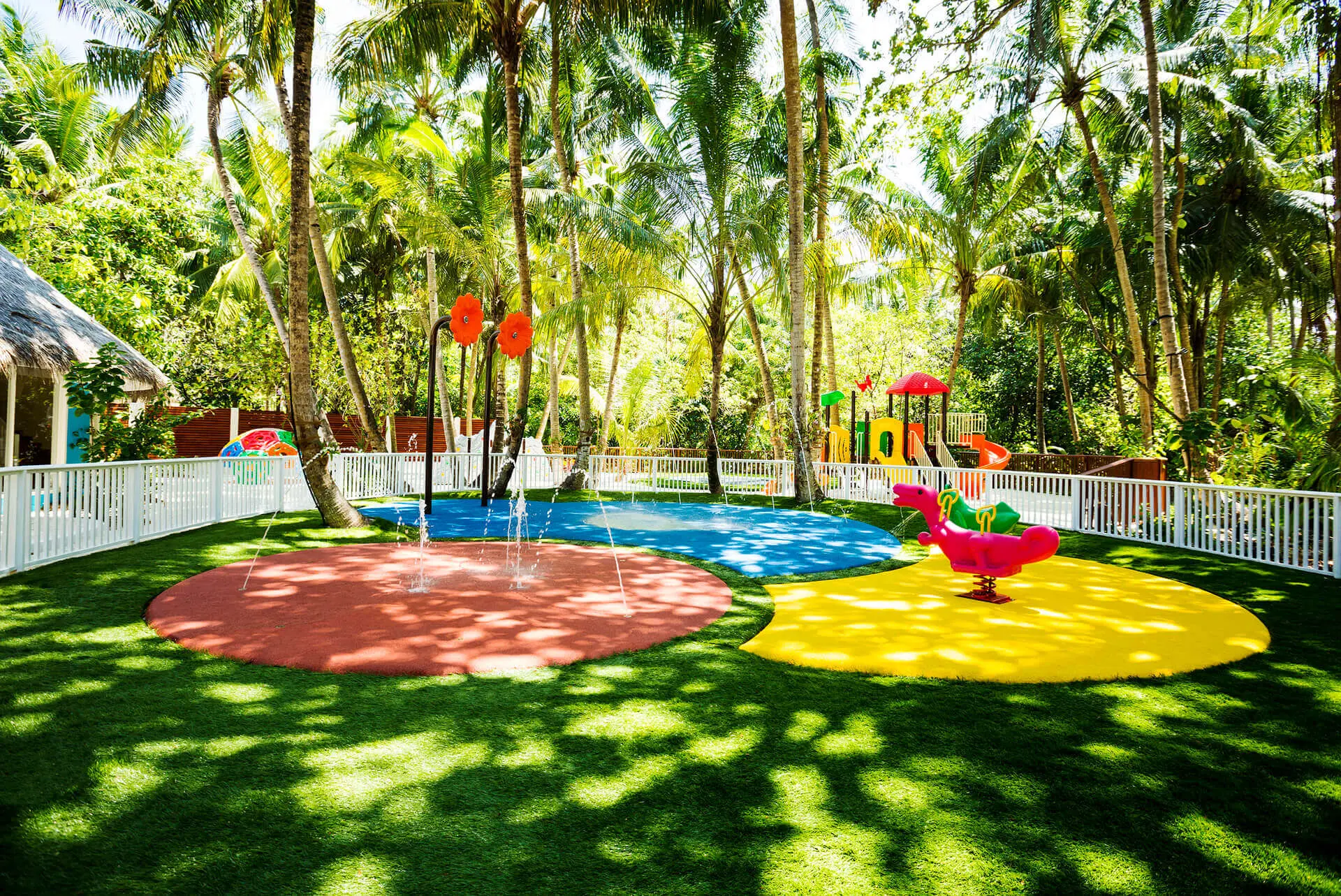 Being an island with a clear vision of nature, sustainability and with a rustic charm, the Kids Club "The Den"at Six Senses Laamu can cater to all the needs of the little travelers. From babysitting (upon request) to children's toys being accessible around the island and in the villas, the kids during Familly Holidays at Six Senses Laamu have a list of activities and fun things to do. Non-motorized water sports, cycling, snorkeling, football and volleyball are just some of the traditional activities available for families to enjoy together at the Six Senses Laamu.
And if you would like to convert your Family Holidays in the Maldives into an educational experience, take your kids along to the back-of-house tour or enrol them to Junior Marine Biologist Program while you and your partner review Six Senses Laamu from all the possible aspects.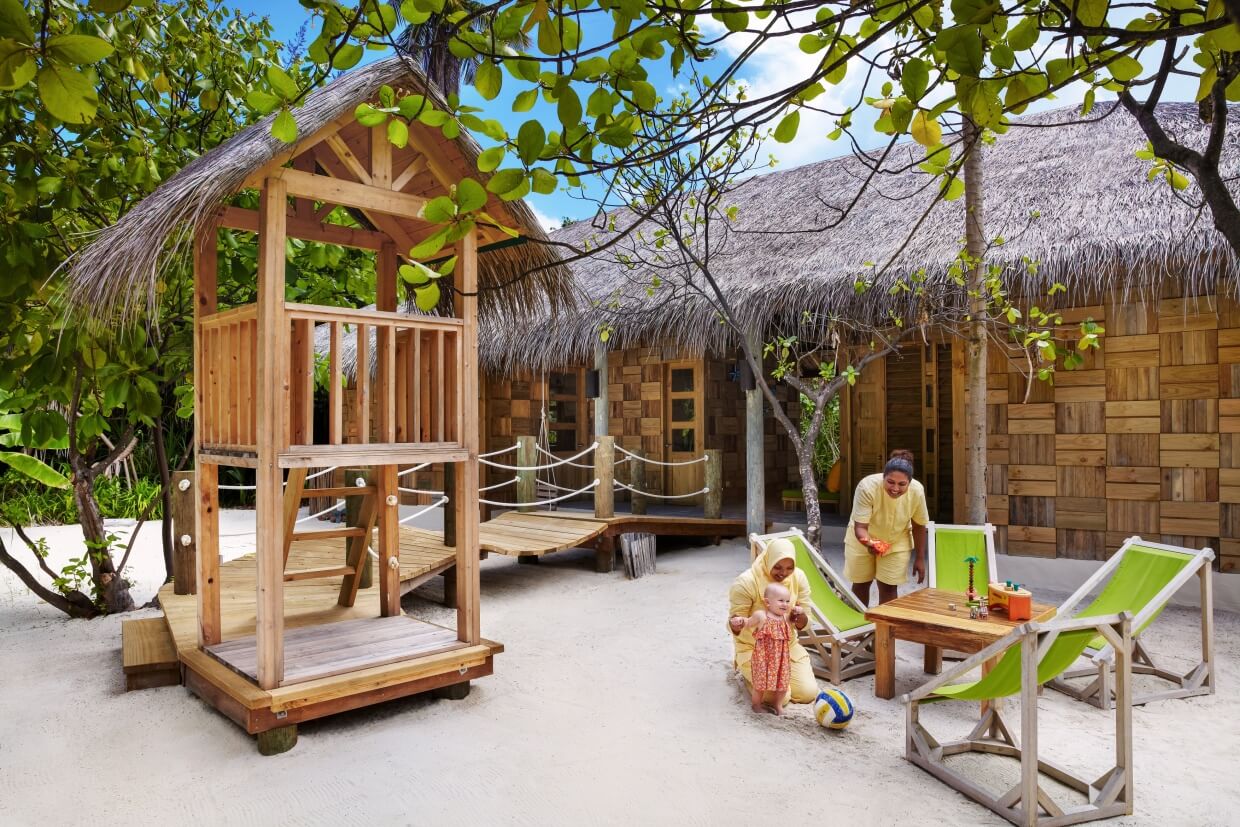 In a timeless sanctuary, capturing imagination of the little ones, Vakkaru Maldives' Kids Club Parrotfish Club (for Kids from 3 to 12 years old) with an outdoor pool offers a variety of arts and crafts. Cooking classes to dining options, the little ones during Family Holidays at Vakkaru Maldives never leave unhappy. Older kids can enjoy scheduled activities at the Coconut Club including pool tables, table tennis tables, foosball tables, board games and a quiet lounge and reading area. Even the littler ones (under 3 years) at Vakkaru Maldives can enjoy with a babysitter while you sip your cocktail in the main bar overlooking the blue turquoise waters of Baa atoll.
Want to discover more about what your children can expect at Vakkaru? Check our own Video Review of Vakkaru Maldives where we also describe in detail this family friendly resort.
The St. Regis in the Maldives offers some of the best activities and entertainments for young travelers at Vommuli House, one of the highlights in every single Review of The St. Regis Maldives Vommuli. Specially trained team members of The St. Regis look after your children with exciting and entertaining activities from art classes to yoga lessons and treasure hunts and from MasterChef cooking classes to snorkeling excursions.
And if you want to explore a little bit further with your children, dolphins cruises and traditional sunset fishing excursions are the favorites for Family Holidays at The St. Regis Maldives Vommuli.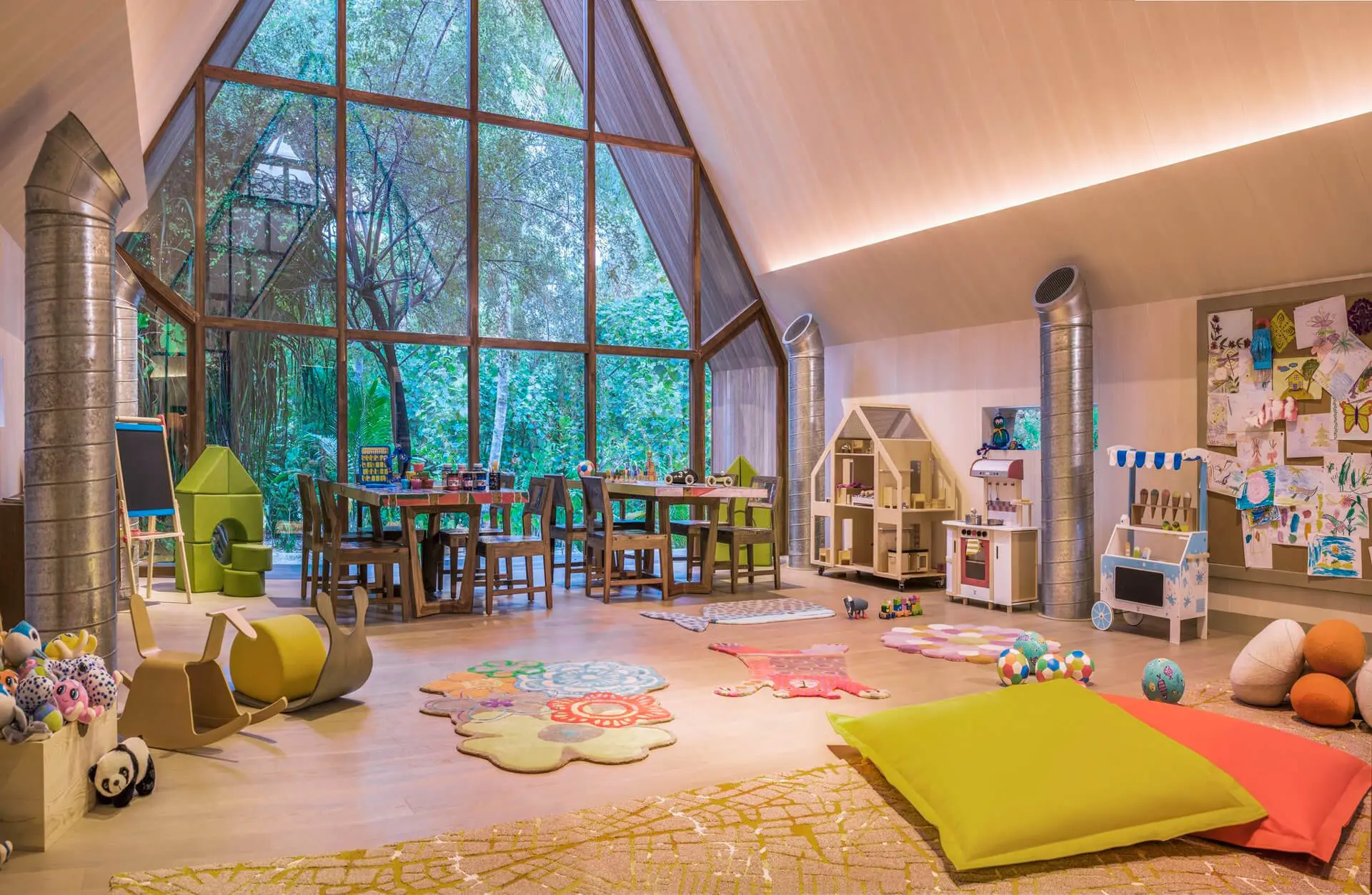 Everyone knows Maldives holidays are not just for grownups anymore. LUX* South Ari Atoll's Kids'Club PLAY takes this very seriously. Ensuring kids from 3 – 12 have the best holiday, LUX* South Ari Atoll offers the opportunity to explore every single delight of island living. No matter if your kids are fans of high-energy sports or prefer to explore their creativity during art classes, the well trained team from Kids Club PLAY will take well care of them. Additionally, older children at the dedicated Teens Club Studio 17, can enrol in complimentary local dance classes, beach sport activities or different adventures around the island including creative workshops at Junk Art Studio & Gallery for all the ages.
Seeking an activity equally exciting for parents and children? Engage them in the hunt of 25 Message in the Bottle hidden around the island with amazing gifts or follow the ICI tricycle giving away ice creams for some sweet moments in Family.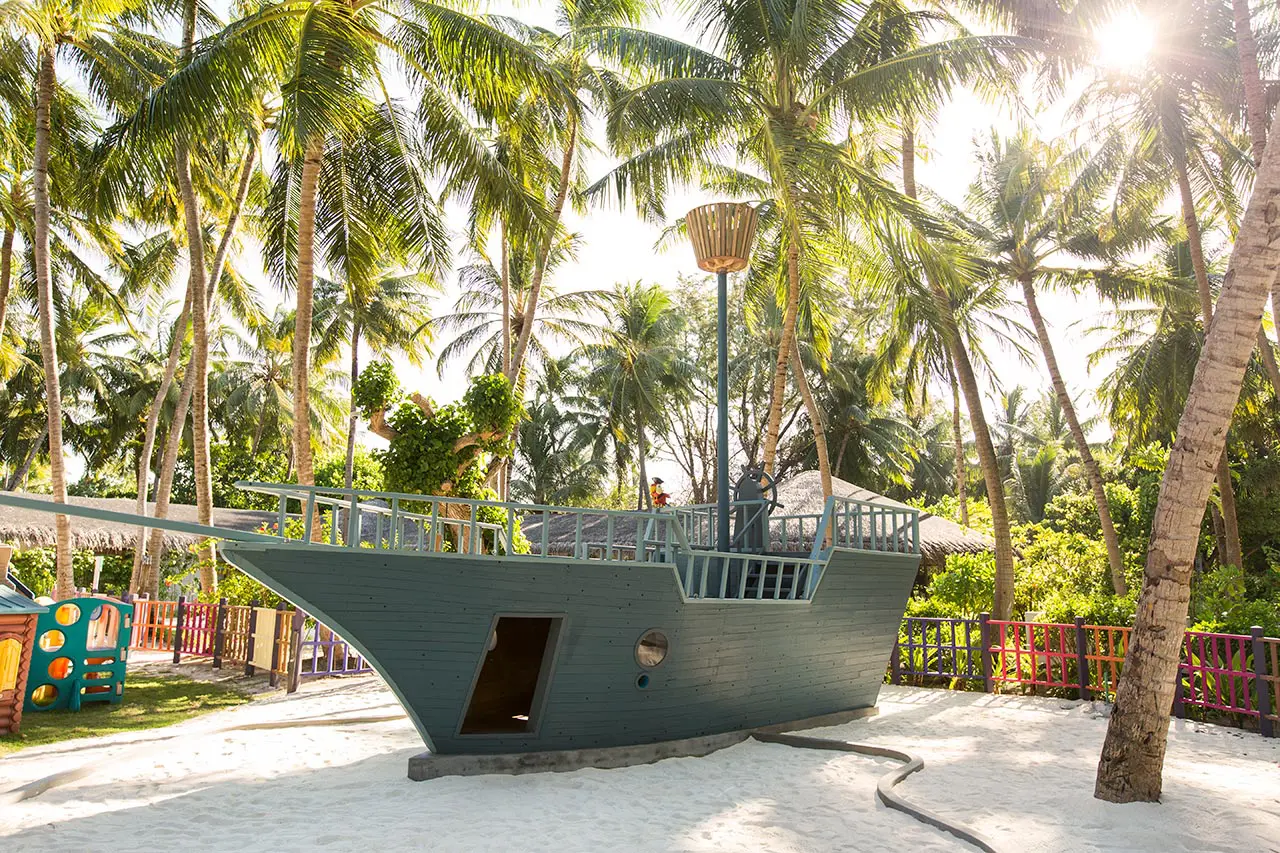 Dolphins are highly intelligent creatures, just like your kids. Emerald Maldives has named their Kids Club "Dolphin Club", an impressive area of more than 1500 sqmwith a large outdoor playground, kids' restaurant along with a kids' pool and Play Station area.
Offering a vast variety of activities and adventures, the Dolphin Club at Emerald Maldives is probably one of the biggest Kids Clubs in the Maldives, making this newly opened resort in Raa Atoll even more attractive for families looking for All Inclusive Holidays in the Maldives.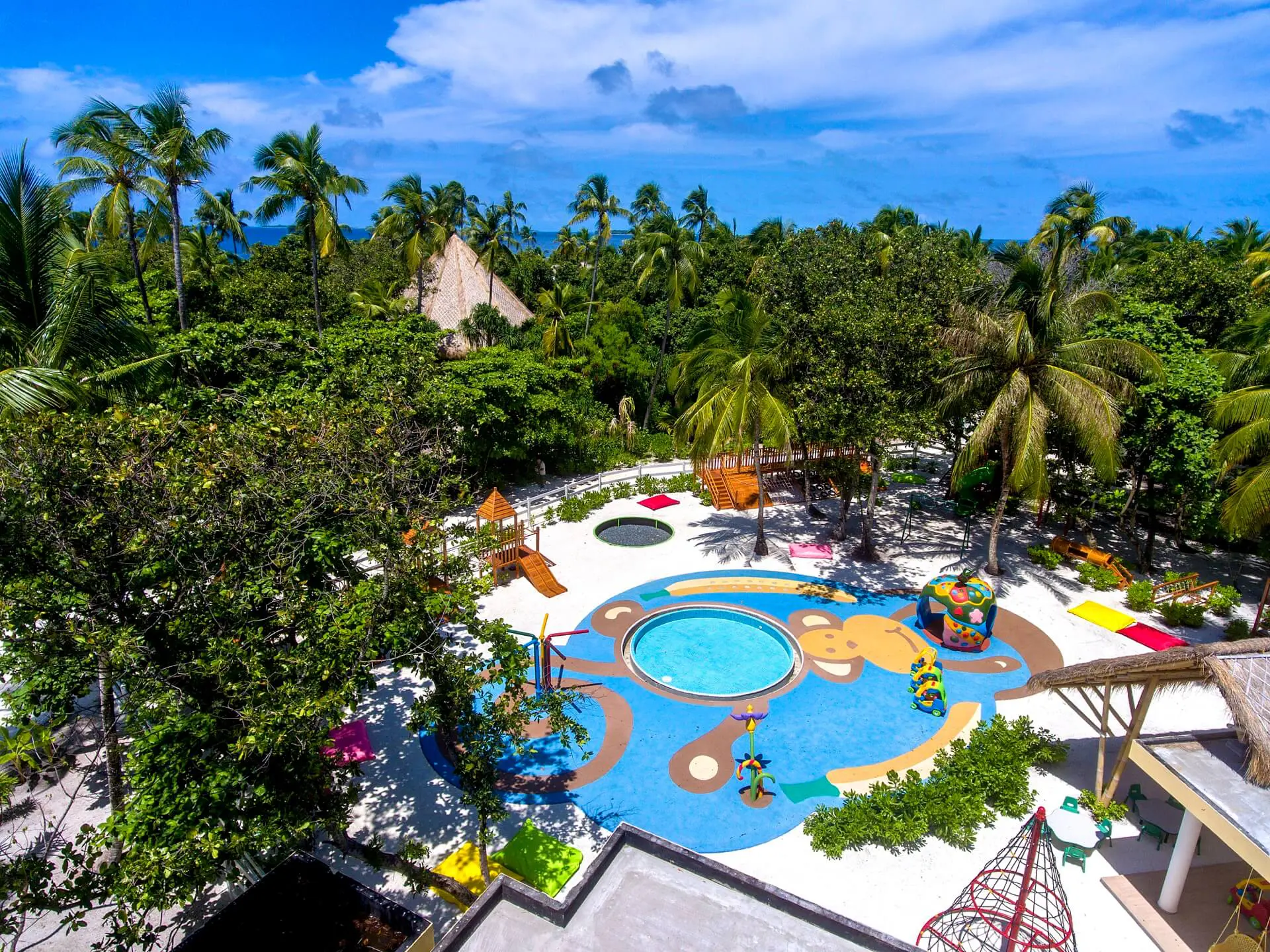 Oceaneers – as the kids are referred to as, and the name given to the kids' club, FINOLHU Kids Club is a world that enchants and encourages creativity in playing, cooking and during guided excursions on and below the water. Well trained professional team members of FINOLHU are round the clock available from morning till night for toddlers and teenagers. And they do it with passion. This quote from Mirrah, the Recreation & Oceaneers Supervisor is proof: "I love kids. They enrich our lives here in Finolhu and help us to see things a little differently. Dealing with children helps me to maintain my own playful side, the child within me".
Time for a little secret: with its world-class entertainment on the island with mermaids, acrobats and clowns alike, Finolhu itself feels like a huge Club, especially designed for playful moments for all the ages.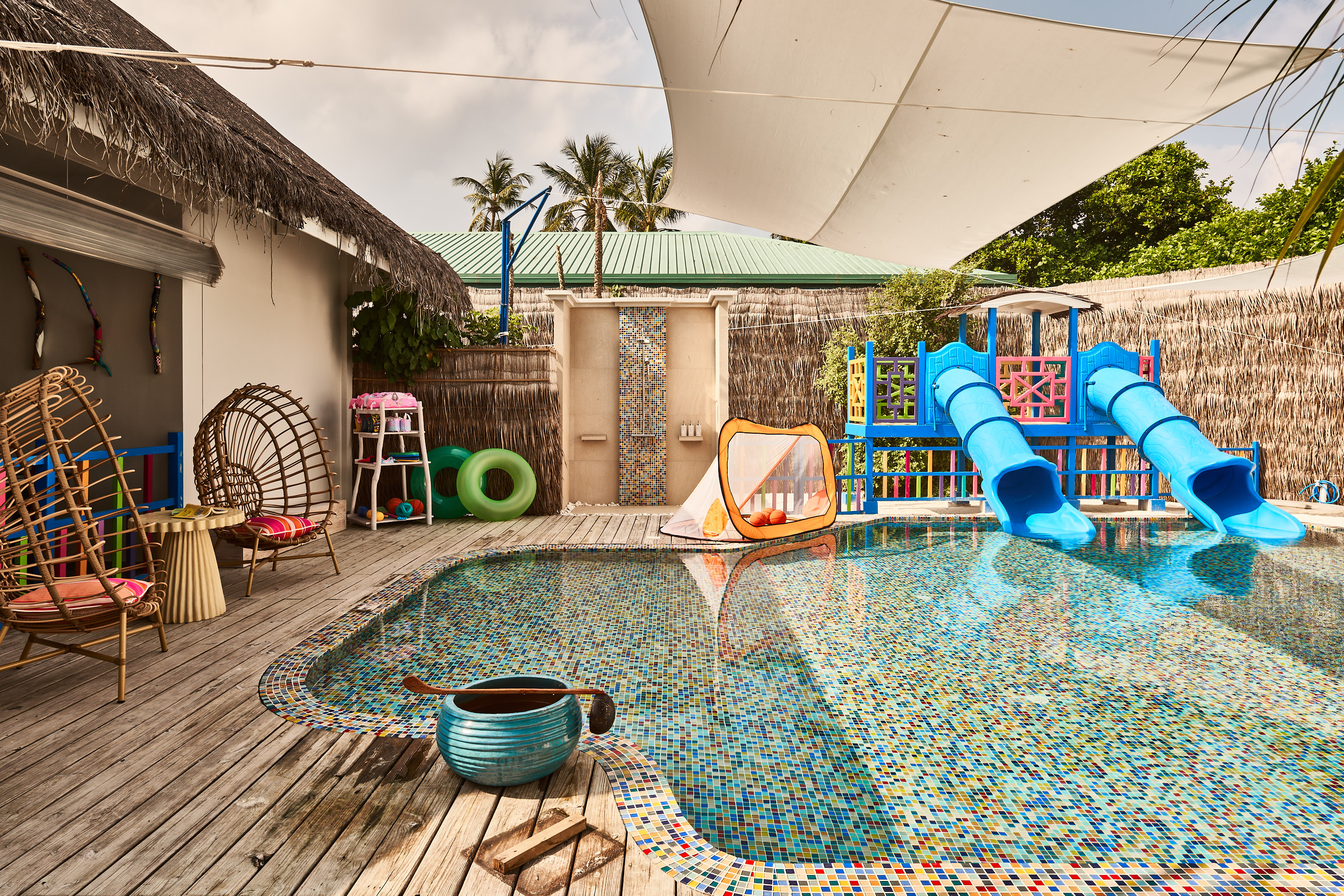 Which one from the above TOP 10 luxury family friendly resorts in the Maldives is your favourite for a Family Getaway? Let us know which Kids Club caught your attention while your Maldives Travel Counsellor tells you more about it. See you all very soon!