EACH ISLAND HAS ITS OWN STORY
ADORE MALDIVES TOO.
The Maldives Travel Counsellor is what defines ADORE Maldives, from expertly advices on the Maldives and the best offers for Maldives Luxury Resorts. Shanoon and his team deliver the best service expected when booking a luxury holiday in the Maldives. See what they say about each individual island, ask for recommendations.
---
Shanoon

- Director & The Maldives Travel Counsellor

Today the Maldives is a luxury destination with more than 100 resorts, each of them with an individual story.  Choosing to book your stay can take up to hours of research and looking for the best deal or offer can be tiring.

'Each resort has something different and unique. What suits you best is an interesting question. From the design and brand of a resort to the stunning beauty of the house reef or the location and size of the villas and most importantly, the value-added services it combines are few reasons some of our luxury travellers chose a specific island.'

Living and operating from the islands of the Maldives, Shanoon and his team visited all the luxury resorts in ADORE Maldives collection. Each island has been handpicked based on personal experience and what sets them apart.

On 4th April 2018, one of the biggest media companies of the Maldives, The Maldives Promotion House published an article about ADORE Maldives & the fresh concept of The Maldives Travel Counsellor.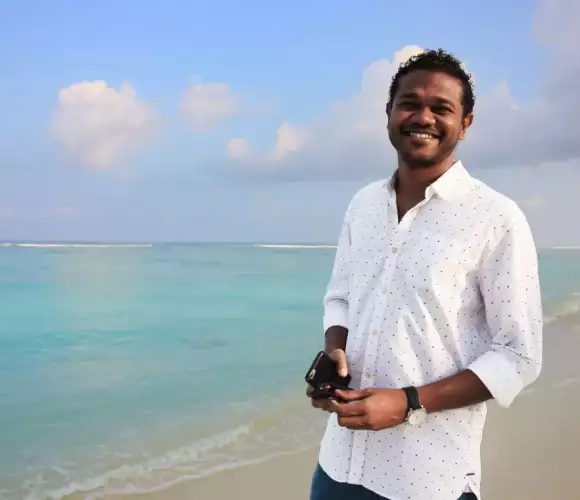 "I wanted to create a brand for discerning travellers to tailor their Maldives experience by understanding 'every detail' of their request"
Shanoon Khalid
Director & The Maldives Travel Counsellor
---
Patrycja

- Director & Travel Counsellor

As a passionate marketing and communication expert, Patrycja is specialized in bespoke travels and luxury resorts. After visiting and inspecting many high-end hotels around Asia, the Maldives Islands stole her heart.

'Your view is the endless blue ocean and you are surrounded by everything you need and adore. Your wine is from Bordeaux, your cheese is from the Swiss mountain-side. The Barefoot exclusivity of the Maldives is unmatched.'

Story telling straight from the Maldives either by pictures, videos or words has become her passion. Travelled to more than 35 countries around the world, visited more than 50 resorts in the Maldives and speaking 4 languages; Spanish, Polish, Italian and English, Patrycja finds the insider knowledge of the resorts is key to offer the holiday of a lifetime.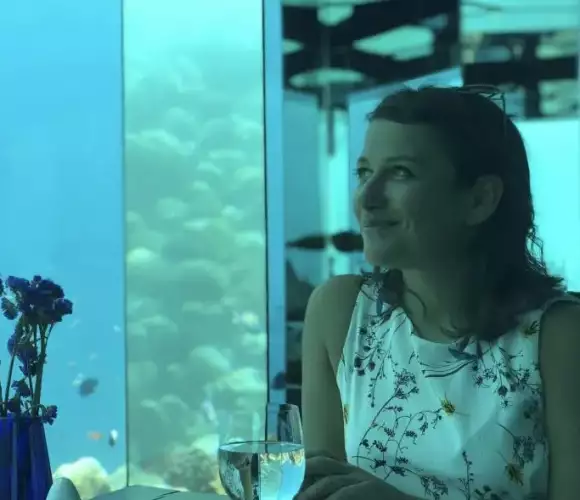 "The Maldives has acquired a higher dimension in luxury. Today, the destination needs a travel counsellor on the islands to share first-hand knowledge of the resorts with the travellers."
Patrycja Zbierska
Director & Travel Counsellor
---
Samna

- Operations Manager & Travel Counsellor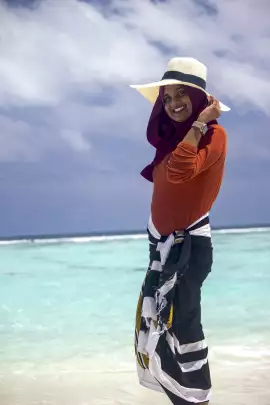 'Maldives is the ultimate dream destination to any couple and to many families today, it is a pride to call these stunning islands – 'home'.'
As an island explorer and a keen snorkeler, Samna helps her clients to choose the perfect holiday with her extensive knowledge of the luxury resorts in the Maldives. Her personal experience makes a difference with all her clients. As Operations Manager at ADORE Maldives Samna keeps an eye on the daily operation proving that behind every exceptional holidays are hours and hours of meticulous planning and outstanding attention to details.
Jazz

- Assistant Manager & Travel Counsellor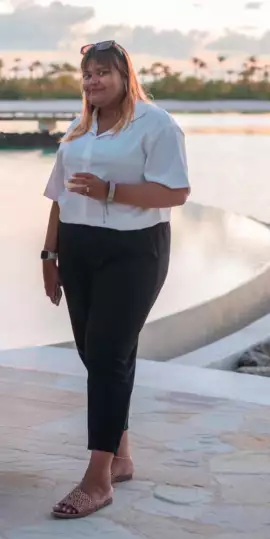 'Every trip I make as a Travel Counsellor of ADORE Maldives is not only an opportunity to first hand experience the resorts I recommend to my clients, but also to discover something new and unique that has not even been on my bucket list before.´
Jazz is surely an outgoing and joyful person, so easy to interact with, making the booking process so hassle free and truly enjoyable. Cherishing every moment of her journey at ADORE Maldives, Jazz makes sure every client receives the best attention and the best value in the Maldives.
Fátima

- Travel Counsellor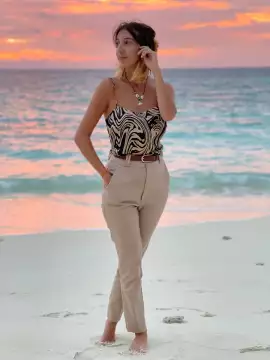 'Coming from Spain, a nation with a long tourist history I have been always aware of the magnitude and relevance that tourism sector brings to the economy and development of a country. Seeing it first hand in the Maldives, made me motivated and proud to be part of one of the most luxurious tourist destinations in the world.´
Fátima has been always fascinated about the Maldives, a destination she started researching long before recommending it to others as a Travel Counsellor at ADORE Maldives. Based in Europe, along with her mother tongue Spanish, Fátima also assists clients in French often bringing her personal experience of recent visits to the luxury resorts in the Maldives. 
Lara

- Travel Counsellor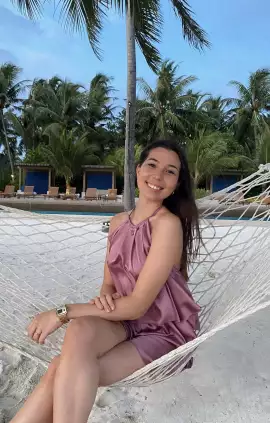 `Travelling has been a source of inspiration for me since I remember and motivates me highly. I love discovering new places but it is always a beach where I find immense tranquility and calmness hard to match.´
Assisting clients from our Spanish Office, Lara is kind and cheerful. Although her passion is also the mountains, she quickly fell in love with the flattest country on Earth: the Maldives. 
Aiham

- Sales Support & Finance Executive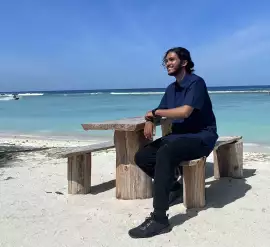 "Dealing with the company's internal operations, provides me with a bird's-eye view of its core workings. It's incredible how all our efforts come together to guarantee that guests have the finest possible experience in the Maldives."
Aiham has always enjoyed drawing and art in general, as long back as he can remember. This helped him acquire a keen eye for detail, which has proven invaluable at ADORE Maldives to ensuring that all reservations are precisely scheduled. At the same time, his creative mind allows him to impulse and support all the marketing activities of ADORE Maldives too, that combine numbers, figures and emotions.
Saif

- Customer Services Executive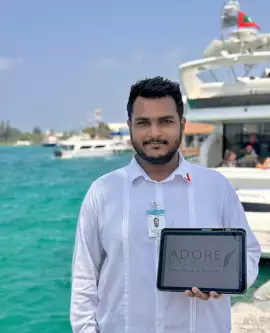 'Airports are the crucial part of our travels, busy structures filled with people, suitcases, relationships… I have been always attracted to this melting pot of stories, visitors, languages and memories and it is where I spent my days making sure our dear clients are well taken care of.'
Every day, I reconfirm all of our arrivals and departures to ensure that domestic transfers go smoothly.
I love listening to your stories; what made you choose a particular island. Your feedback is very important to us, so I can share it with our team of travel counsellors. My aim is to provide a heart-warming service from your arrival to departure and I look forward to welcoming you back once again.
Sandy Su

- Partner, China Market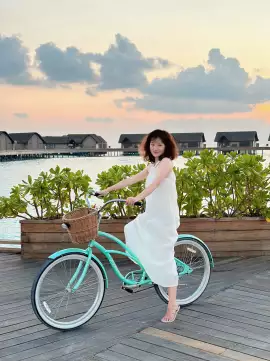 The Maldives was the first place in the world where I started my professional career and I could not have chosen it better than this. It was a place that changed the trajectory of my life forever. I hope to promote the Maldives to more families and couples who have a beautiful longing for life. "
Sandy has been living in the Maldives for 10 years, has experienced more than 50 resorts, and planned trips for thousands of families and couples to the Maldives. She is passionate about sharing her most authentic experiences with her clients.