TOP 5 MALDIVES RESORTS FOR WORKATION
The Best Offers for Long Stays in the Maldives
Let's face it. We all need a change of scenery now. Yes, we value family bonds more than ever and we have discovered how easy and comfortable it is to work remotely. But while you are wondering if it's time to change your zoom background or orientation of your desk in the new home office – others are already packing their bags. 
Workation is a new trend in luxury holidays, a new sign of our times, when balancing work and leisure is no longer a circus trick – it's a reality.
Written by: Patrycja Zbierska
With remote work station, entire offices under your fingertips, sophisticated collaboration tools, and teleconferencing platforms, more and more independent professionals around the world are deciding to reduce their office to the size of their laptop or even smartphone, and take it on a real vacation!
Maldives has never been a stranger to new age technology, the extensive Wi-Fi service can be found here literally under every palm tree, and almost every luxury villa in the Maldives has a workstation with all the necessary chargers, adapters and… this view!
So… What are the best Maldives resorts for Workation?
The Nautilus Maldives has launched a dedicated 'Workation Package' allowing you to blend leisure with productive time in the UNESCO Biosphere Reserve itself! A House in this small coral island, located in Baa Atoll can be booked from 23,250 USD per week, and offers a personal assistant, unlimited refreshments, complimentary laundry service and a truly stunning view from your desk! And if you wish to take your Workation to the next level, just grab your laptop and head to the nearby Sandbank – The Nautilus team will arrange a workstation set up there, with a shaded canopy, a private Wi-Fi, wireless printer, scanner, portable projector and screen! Is there any better place to close the most important deal of the year?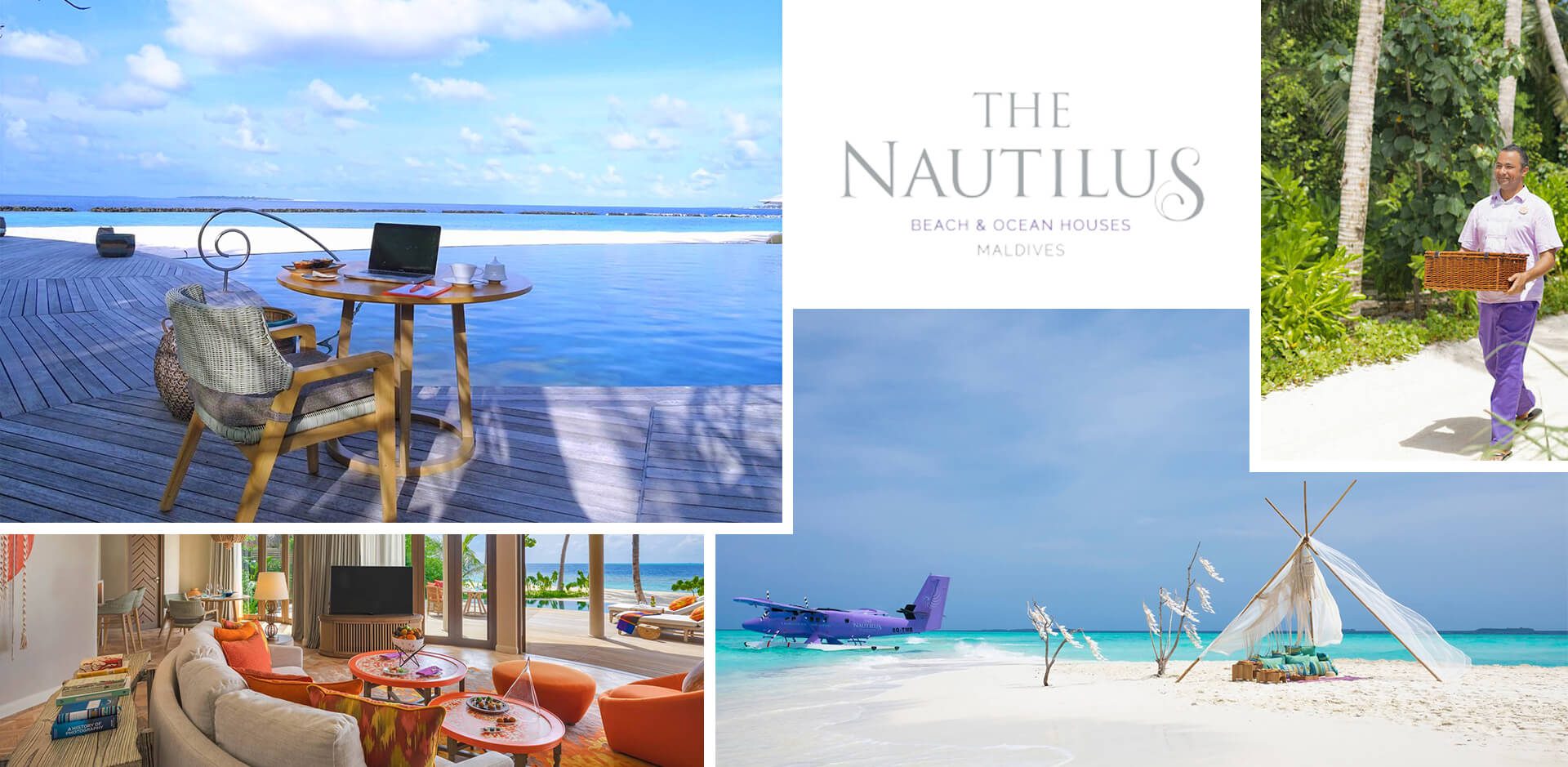 2. SONEVA FUSHI
If you wish to isolate even more… why not do it in the middle of the jungle or in one of the newest overwater retreats with slide? Soneva Fushi is well known for its personalized service and environment friendly approach to balance life, making it one of the best Maldives Resorts for Workation! The modern Robinson Crusoe are always connected but If there is any way to increase the long-term productivity while you unwind and relax – believe me, at Soneva they know the secret formula. Organic garden ingredients for the extra boost, The Observatory with the state-of-the-art telescope for seeing the 'Bigger Picture' and nights out in the luxurious Bedouin-style tent for thinking outside the box.
All of it with an amazing 50% discount for stays of more than 30 days. And if you wish to take a real "day off"… hop on the complimentary speedboat for day trip to Soneva Jani and discover what this most Instagrammable resort in the Maldives has to offer.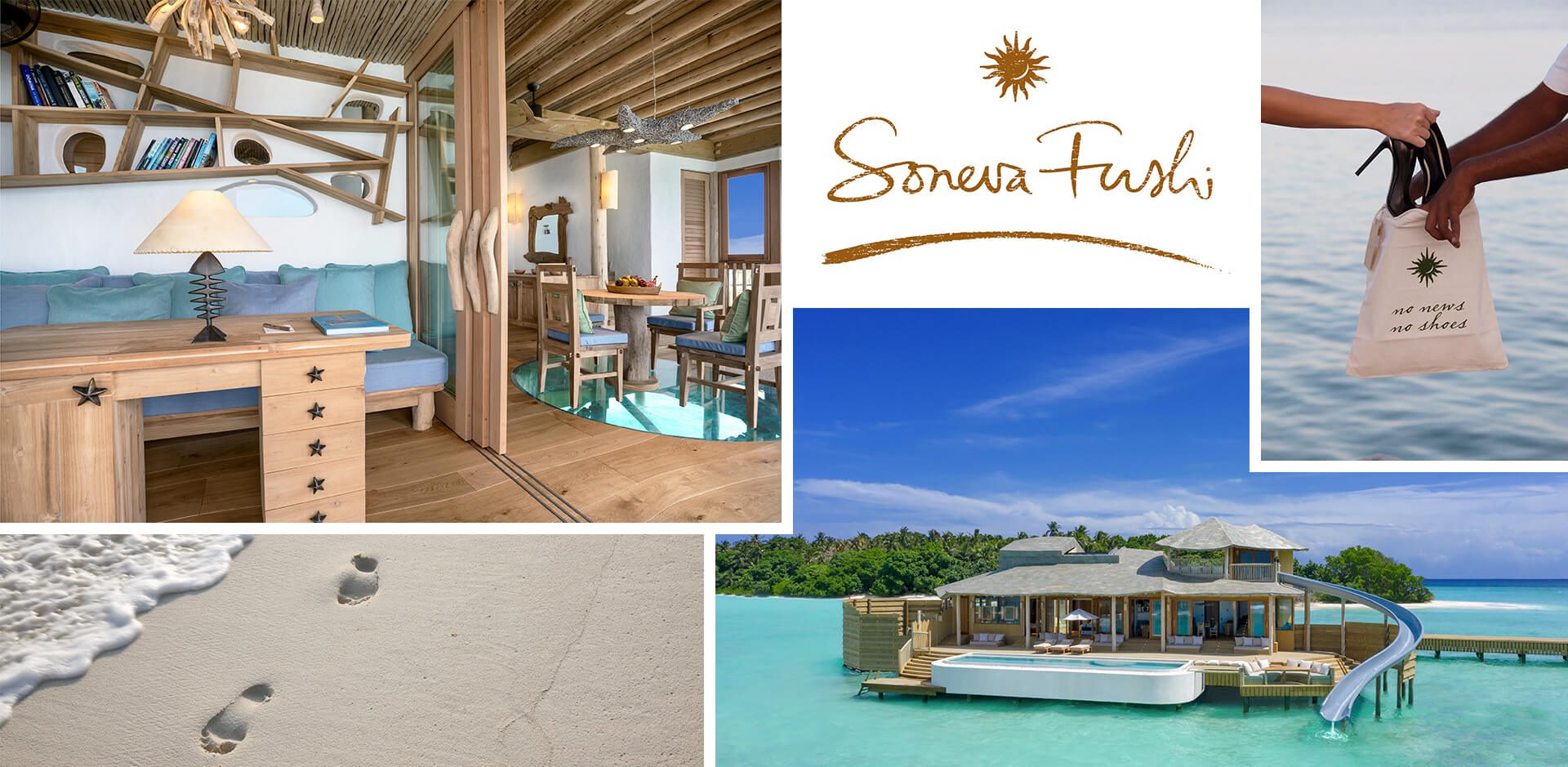 If you are not precisely the solitary type and you just simply cannot wait to reunite everyone back in the office, Kudadoo Maldives might be your perfect solution. Change the crowded subway for a Private Seaplane transfer and take your team to an isolated island that will bear your company name during your Workation. Kudadoo has just launched its Buy-out Offer and you can book it in its entirety for the most stylish Corporate Retreat! This private island that runs on 100% solar energy features just 15 exclusively designed one and two bedroom residences floating above the aquamarine waters of Lhaviyani atoll. Anything, Anytime, Anywhere… starting from 55,000 USD per night.
Is Workation calling you already but the company budget reminds you to be conscious? Anantara Dhigu is another island that launched an incredible package for the Maldives Workation with some valuable inclusions and very attractive pricing. Spend the night in a villa on the pristine beaches of Anantara or an overwater suite for as little as 600 USD per night, and receive complimentary Half Board, free laundry and transfers to and from the airport, if staying at least for 28 nights. And while you attend your daily duties, your children can delight in more fun-filling activities designed for them at the resort Kids' Club. Round off your day at the overwater Anantara Spa or choose an underwater excursion instead.
5. PULLMAN MALDIVES MAAMUTAA
Last but not least: a treat for those who are pretty serious about the Workation already. How about financing just a part of your office away from office, while other nights on this completely All-Inclusive island are just for free?! We call it an incredibly great value for money kind of deal!
Pay 16 nights only and stay up to 30 nights; pay for 32, and stay up to 60 nights, shall we go on?
There is something more: one of these magical nights will happen literally underwater in the Aqua Villa – the underwater bedroom experience of Pullman Maldives. With all these food and beverage choices you might need a personal fitness trainer (also included) and definitely a personalized wellness program with spa or dive sessions once per week and healthy shots in the Sol Rising overwater bar.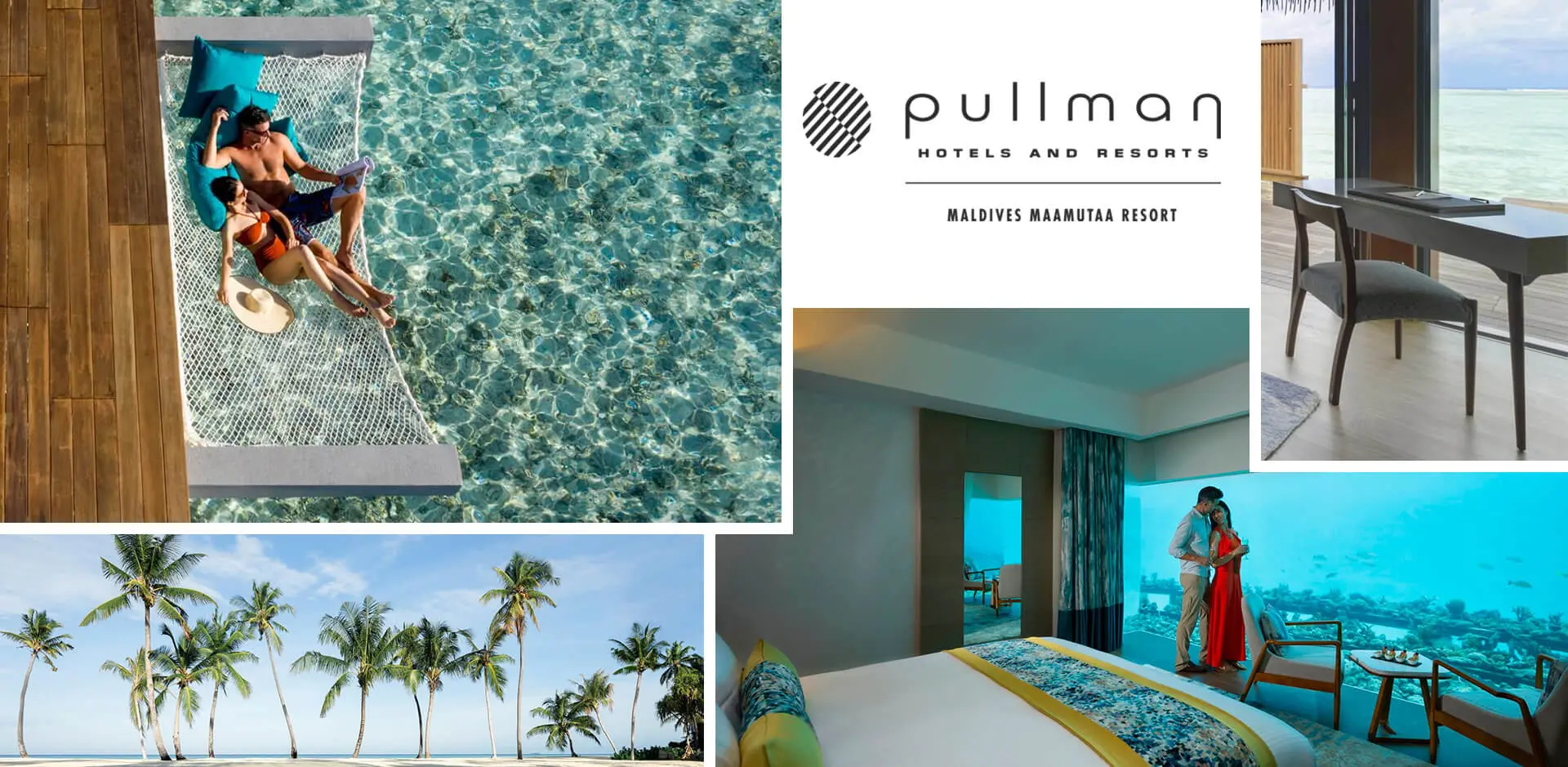 Note from the Editor: We decided to highlight these Top 5 Maldives Resorts for Workation as an inspiration for your corporate retreat or a solitaire hideaway. Please do not hesitate to contact us directly if you wish to reward your loyal employees or arrange an incentive trip to the Maldives.