TOP 5 BEST RESTAURANTS IN THE MALDIVES
Dear Foodies, listen up!
One of the peculiarities about your Maldives Holidays is that all your dining options are within a short, relaxed and barefoot beach stroll. Yes! Forget about checking Trip Advisor's reviews for the best restaurants and bars. Someone has already done this job for you.
In the Maldives we have the beautiful rule of "one island – one resort" which also means that every resort is doing wonders to offer the best dining options to its guests.
Dear Foodies, listen up! We have listed for you the best restaurants in the Maldives. So spectacular that only dining there once justifies the choice of resort for your holiday in the Maldives.
Written by: Patrycja Zbierska

1. BA'THELI BY THE REEF
Proudly the first island inspired Maldivian fine-dining restaurant in the Maldives and probably the only one that encourages its diners to come barefoot. But… why do you need your high-heels if your table is literally over the water? Ba'theli's architecture is inspired by the local traditional wooden sailing boats (dhonis), so the restaurant is romantically docked at Milaidhoo's jetty. And if you love history as much as good food, you will adore the fact that the story of Ba'theli began over 5,000 years ago when the Maldives was part of the trading route from Indonesia to Arabia… Imagine all those spices like cinnamon, cardamom, turmeric, cloves bartered against Maldivian coconut and fish. This is Ba'theli by the reef.
Don't Miss: Classic Maldivian dishes such as Garudhiya (a clear soup with tuna) and Mashuni (a tuna salad with coconut, pumpkin and lime)
2. THE LIGHTHOUSE RESTAURANT & LOUNGE
Lighthouse is a benchmark in the Maldives dining scene, not only because of its exceptional cuisine but also thanks to its iconic design. The well-known shape of the Lighthouse attracts foodies around the world for the most romantic and memorable dinners over the water. The marine life of Baros Maldives is literally buzzling below the deck and it's very common to spot some reef sharks or even eagle rays. Elaborately composed symphonies of seafood and modern Asian – Mediterranean fusion are accompanied by relaxing jazz music in this very refined ambience.
Don't Miss: Lobster Bisque prepared by your waiter in front of you. Masterpiece for your palate and a great opportunity to try the slow-motion effect from your smartphone.

3. SEA UNDERWATER RESTAURANT
Probably the only restaurant in Maldives that we specially recommend for lunch instead of dinner.  The most gourmet experience in the world's first underwater wine cellar is on the bucket list of many foodies. No wonder, your dining table at SEA is totally surrounded by the tropical fishes, sharks and turtles while the real magic is happening on your plates. The SEA sparkling Four Course Menu is the best option for unforgettable lunch with exceptional wine pairing including Prosecco and labels from France, Italy, South Africa, Australia and Argentina.
Don't Miss: Maldivian Lobster Medallionwith Asparagus and Jamon Iberico and Avocado for starter, Wagyu Beef to continue your culinary journey and Chocolate Bomb filled with Ganache and Crunchy Mascarpone as a sweet ending.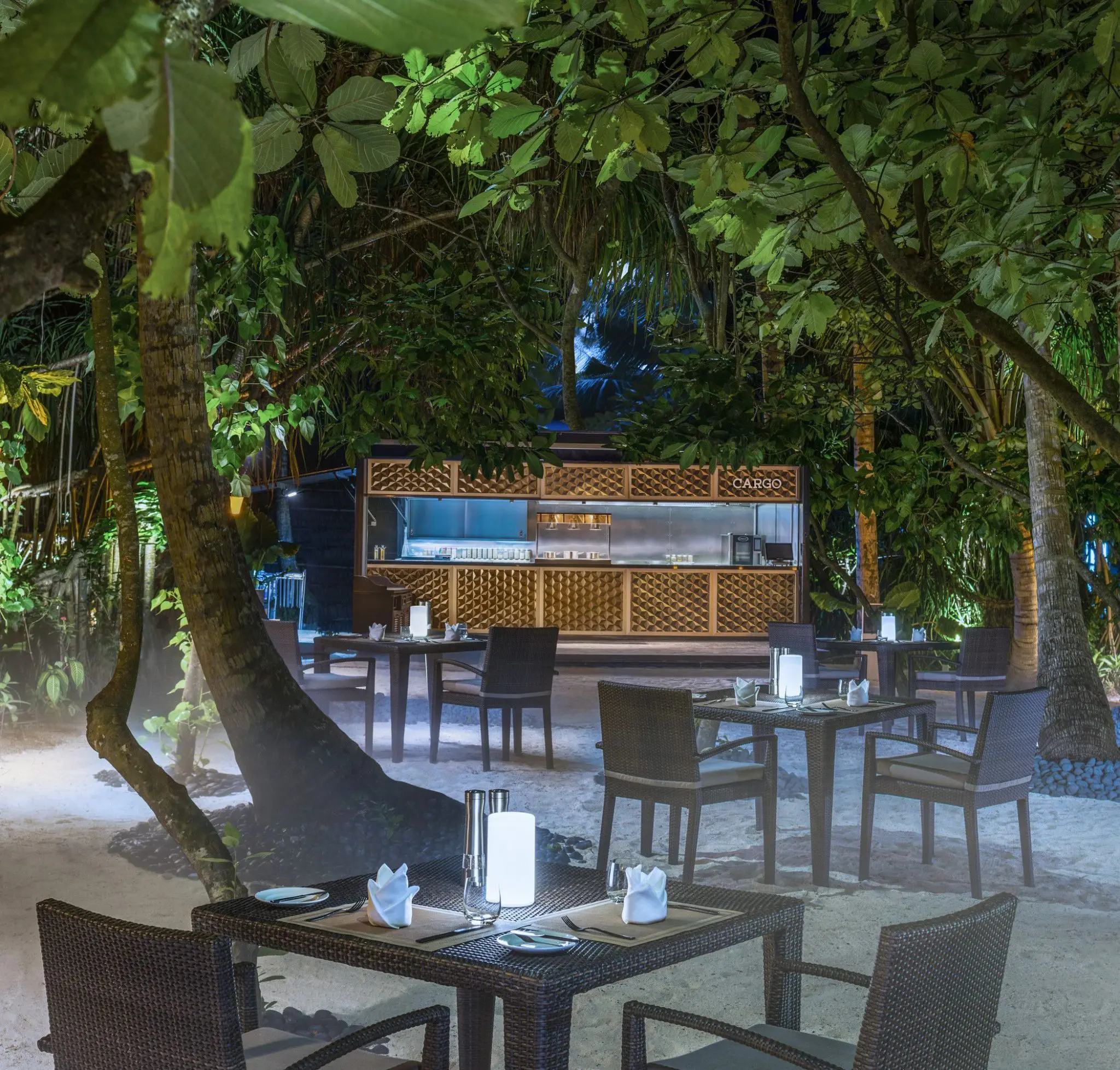 4. CARGO
In the middle of The St. Regis jungle there's an intriguing kiosk that looks completely left apart. At least during the daytime. By night, some tables appear mysteriously amidst dense tropical gardens and the shipping container boosts life and its best flavours transformed into a great Lebanese. They say when John Jacob Astor went down in the Titanic in 1912, not everything was lost. And CARGO, the shipping container was cast adrift until washed ashore on Vommuli Island. This pop-up restaurant was conceptualised by Carl Kjellqvist in collaboration with Wong Chiu Man of WOW Architects. For us – the real WOW.
Don't Miss: Hummus, Cargo's signature entrée. The best way of trying it is to order Chilled and Hot Mezze and experience all the Arabic flavours together. Tabbouleh and Falafel won't disappoint you either.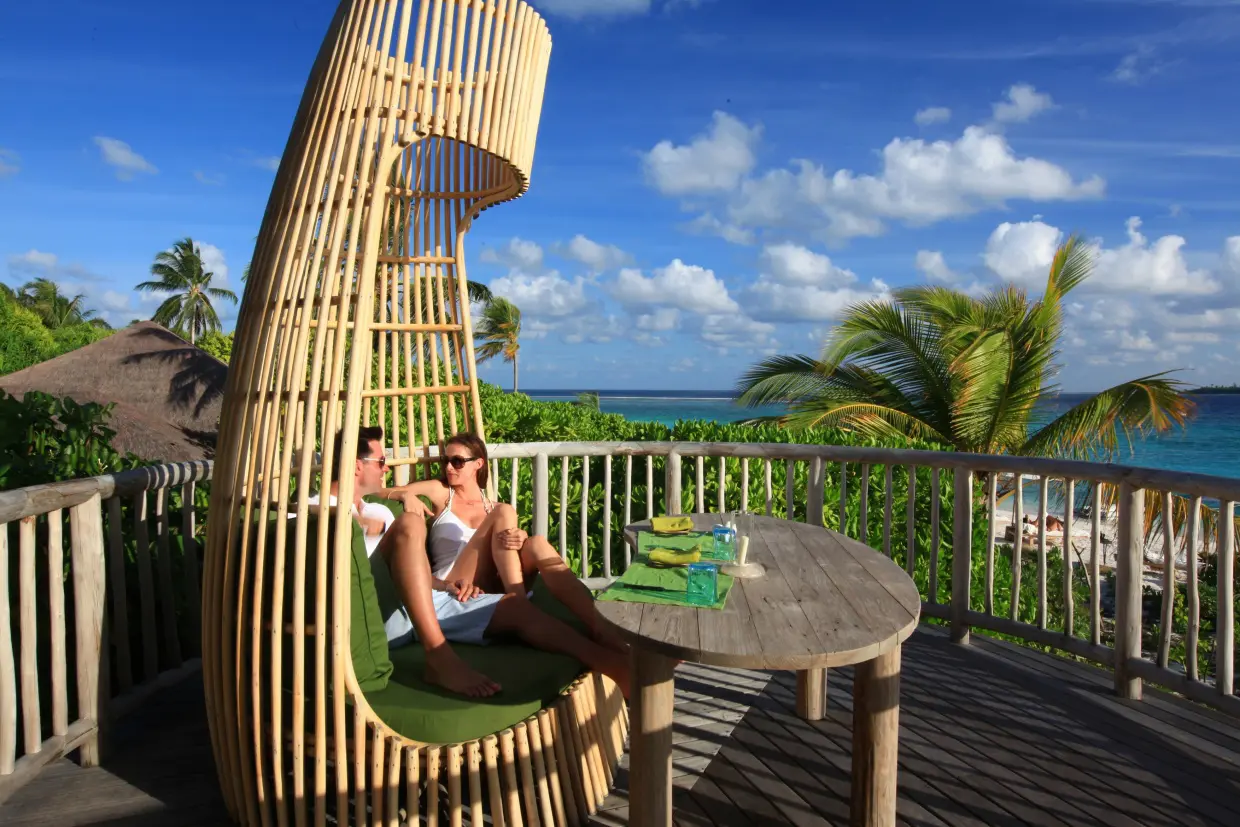 5. THE LEAF
Humphrey Bogart used to say that "if everyone in the world would take three drinks, we would have no trouble". And if those drinks are ordered in the LEAF, you can be assured no trouble was caused also to the environment. All the fruits and herbs are sourced locally to ensure maximum freshness and sustainability of Maldivian farmers, while the local fishermen provide the best ingredients for the inventive dishes of the LEAF. The selection includes vegan, vegetarian, gluten free, lactose free and even enhancing sleep quality dishes.
Don't Miss: Garden Chili Table Menuwith reef fish ceviche, atoll lobster tail poached in Asian spiced fenugreek broth and frozen chilli yogurt ice cream for dessert.