Maldives, one of the safest destinations during Covid-19 open for tourism
We are open with no restrictions
FROM 15TH OF JULY 2020 – WE ARE OPEN WITH NO RESTRICTIONS!
The Sun Shone to the Maldives this morning, 15th July 2020 with the landing of Qatar Airways. This is officially the first step towards welcoming tourism back to our island after the temporary closure.
You may be wondering what it is like to visit the Maldives with the 'New Normal'.
Here is a quick snap of what you need to know:
Written by Shanoon Khalid



VISA ON ARRIVAL
No visa fee or prior visa is required

Free 30 day on arrival tourist visa
ENTRY TO MALDIVES
Tourists will not be subject to any quarantine measures upon arrival to the Maldives.
From 14th of March 2022 onwards, tourists and travellers are no longer required to hold a Covid-19 vaccine certificate or a negative PCR test result upon arrival.
An online Traveller Declaration form that can be found at the following link will be required as part of the on-arrival procedure: https://imuga.immigration.gov.mv/ethd/create
(the form must be filled within 72h before arriving to the Maldives)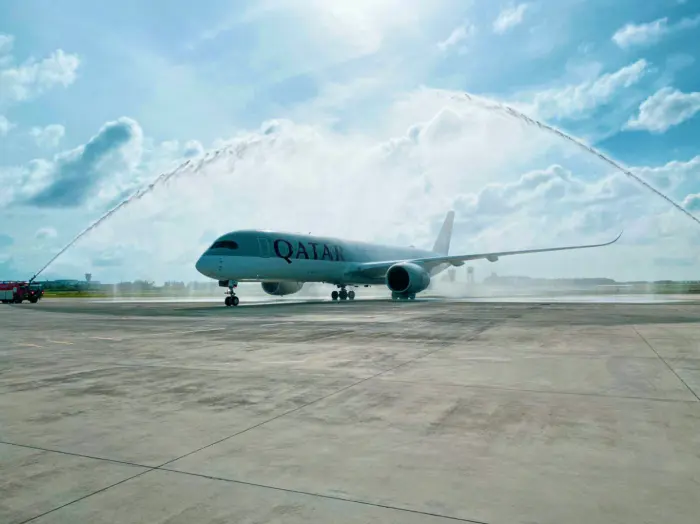 Water Salute at Velana International Airport (MLE) on 15th July 2020
(C) Maldives Insider
DEPARTURE FROM MALDIVES
Testing services are available in Maldives for tourists who require Covid-19 test results to return to their countries of origin or another destination.

Please make sure to recheck the policy of your airline / country you are flying to before booking your Maldives Holiday. The policies might vary depending on your vaccination.

An online Traveller Declaration form that can be found at the following link will be required again as part of the departure procedure, within 72h prior to your departure: https://imuga.immigration.gov.mv/ethd/create
HOW SAFE IS THE MALDIVES DURING COVID-19?
Maldives has never been a crowded destination; making this 'One Island, One Resort' nation, one of the safest in the world. All properties in the ADORE Maldives collection offers:
Enhanced Hygiene Practices; including the latest sterilisation, disinfection and cleaning technologies according to the WHO standards starting with a complimentary hygiene kit on arrival (gloves, masks, sanitiser, etc.) for all guests.
Guest Guardian: One point of contact with personalised service from In-villa breakfast to a dedicated butler, ensuring the highest level of health and safety compliance at all guest touch-points. Most islands have Risk & Hygiene Managers that follow strict HPA (Health Protection Agency of the Maldives) guidelines.
Spacious Private Pool Villas: Our collection features some of the largest villas in the Maldives, most of them with private pools. Thus, privacy and space remain protected.
Limited No. of People on each Excursion: Dolphin Cruise to Sunset Fishing and Guided Snorkelling; all excursions are limited to one family or a maximum of 04 to 06 persons, if not private.
A la Carte Dining: Buffets were never a luxury, but dining under the stars with your feet in the sand was! Order from extensive a la carte selections at your comfort, while most of the resorts remove buffet dining from their offers.
Daily and Frequent Temperature Checks: While your health and safety are of utmost importance, resorts in the Maldives keep a balanced check of all personnel directly or indirectly involved with guests.
One Island, One Team: The people you interact with in the resorts are on the island, they do not frequent the capital or the neighbouring islands. Thus, your contact with the outside world is limited to a small number of dedicated team members.
WHAT ABOUT THE TRANSPORTATION TO THE ISLANDS?
On top of the above extraordinary measures the resorts are taking, Trans Maldivian Airways (TMA), the largest seaplane operator in the world has also prepared a comprehensive video to show you how seriously we take your health and safety.
WONDERING WHERE TO GO?
Reach out to your Maldives Travel Counsellors for personal recommendations.