PATINA MALDIVES, FARI ISLANDS, THE NEW LIFESTYLE DESTINATION [VIDEO-REVIEW]
THE NEW LIFESTYLE DESTINATION
DESTINATION OF PERPETUALITY AND INDIVIDUALITY.

Patina Maldives, Fari Islands is the inaugural flagship property from sophisticated new lifestyle brand Patina Hotels & Resorts, the latest hospitality concept by Capella Hotel Group.

ADORE Maldives, a preferred partner to Patina Maldives visited the island right after its opening in May 2021. Here is our story of why Patina stands out between luxury resorts in the Maldives islands.
Welcome to the archipelago of artistry. Join us in the perpetual journey for independent minds.
LOCATION AND PROXIMITY OF PATINA MALDIVES:

Located within the Fari Islands on North Malé Atoll, the resort is a 45-minute Luxury Speedboat journey from Malé International Airport. Transfers are available 24hrs based on international flights and ADORE Maldives customer service team at MLE airport are to ensure you meet your transfers on time for arrival or departure. Patina Maldives is a destination itself with a yacht marina, oversized private pool villas, numerous restaurants… Patina serves the free spirited individual travellers who are seeking more than just a resort holiday in the Maldives.
DESIGN WITH A PERSONALITY – The Villas
Dotted around the beach and lagoon of the unusually shaped island of Patina Maldives, the exquisitely appointed beach and over water villas with private pools are the art of a renowned Brazilian architect, Marcio Kogan from Studio MK27.

From one to three-bedroom villas, a collection of beach houses on a private beach, Patina Maldives invites the modern day traveler to experience vibrant and social spaces.  

Each private pool villa is inspired by straight lines, the outdoor, minimalism and nature. You will feel this as you enter the villas as floor-to-ceiling glass windows and doors open on three sides to blend inside with outside as one. At Patina everything is in balance with harmony and nature.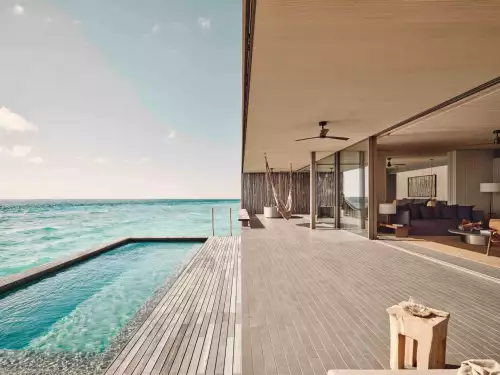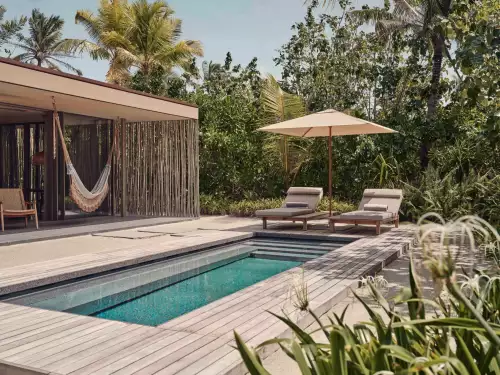 NOURISHMENT WITH THE ART OF DINING – The Restaurants & Bars of Patina
Patina Maldives brings to the table, only the finest, greenest, and consciously sourced ingredients, it is part of the philosophy and culture of the island to remain focused on green practices to minimize food waste and reducing carbon footprint. This is wholly embodied in the multitude and preventative remedies to achieve a calm mind and to restore balance.
While exploring the Fari Islands, you can divide the dining spaces into 3 distinctive and completely different ambiences:
1.THE HEART OF THE ISLAND:
ROOTS, THE WOK SOCIETY, PORTICO AND VELI BAR
That's a place to be in the morning, while enjoying the famous "breakfast with a view" in Portico, the main restaurant. That's also a place to burn those calories away in a fun class of cycling in the main pool. Finally, that's a place to come back in the afternoon, just in time for the "happy hour" and choose one of the amazing creations of the Patina's baristas. And… if we are already here, why don't you stay and dine in one of these amazing options, all carefully positioned around: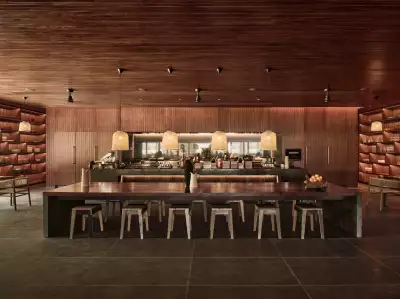 ROOTS
Roots is a 'plant-based' restaurant that celebrates the slow food movement and minimizes waste, honoring nature and wellbeing. It is truly remarkable when a luxury resort in the Maldives chooses a plant-based restaurant as their signature outlet. Is there a better way to express your love towards the nature around us? 
THE WOK SOCIETY:
A chic Hong Kong social serving up soulful dim sum creations and addictive craft beverages. The innovation consists in being obsessed with bringing the myriad of food stories across Asia to one tasty table.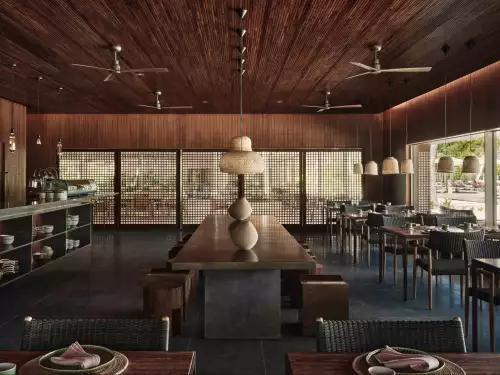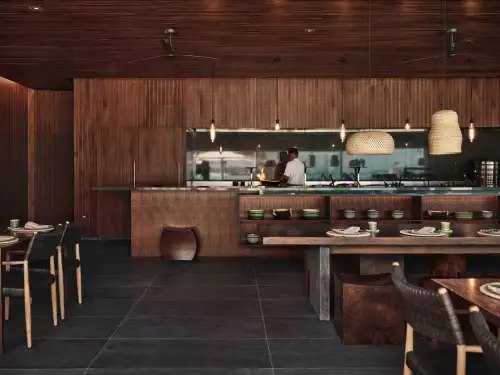 VELI BAR:
A poolside oasis making every day fresh and every evening magical, mimicking the ebb and flow of the tides. The collection of casual snacks and drinks alternates from the deliciously simple by day, to the unexpectedly layered by twilight.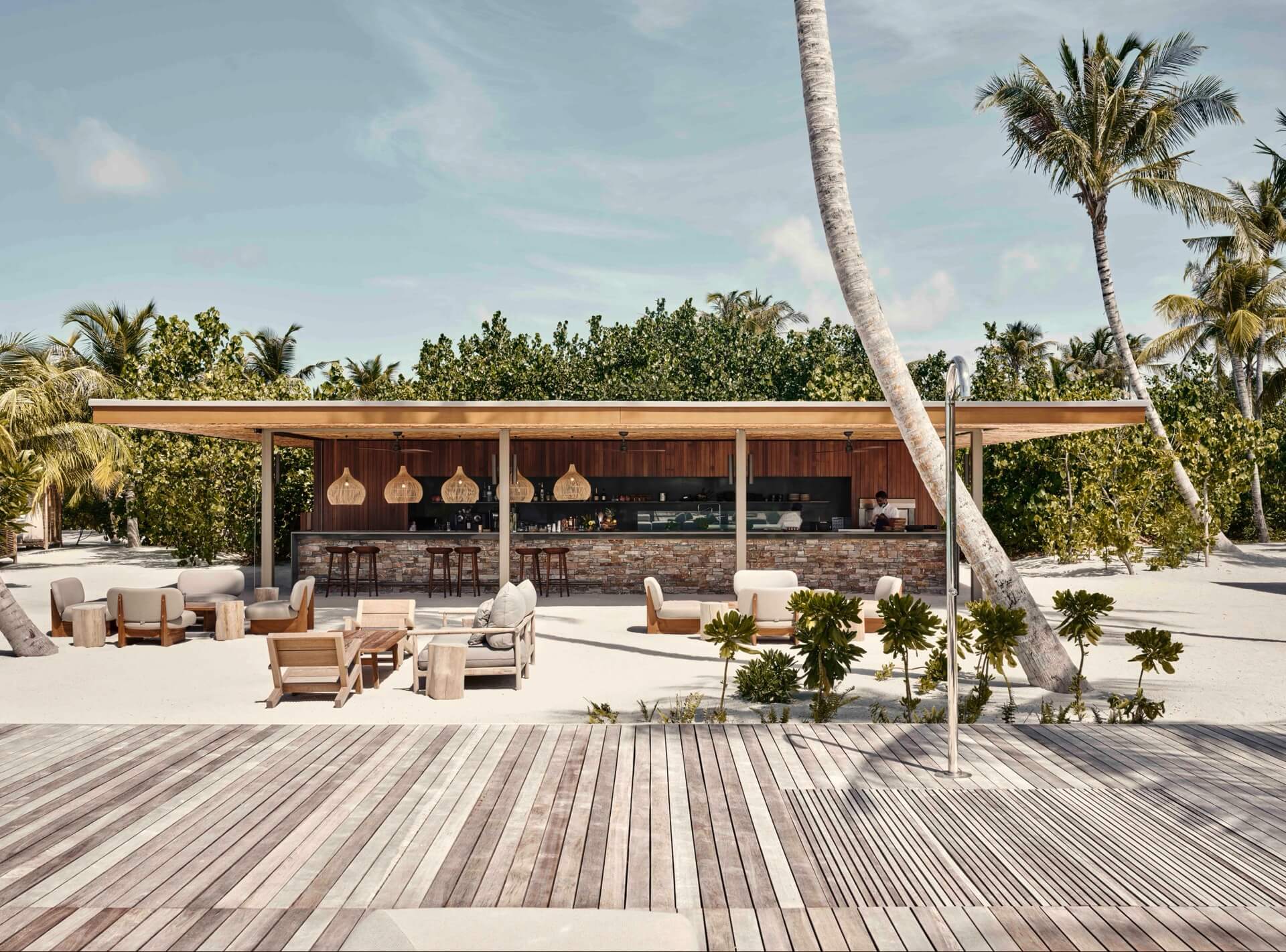 2.FARI MARINA VILLAGE:
BRASA, KOEN, FARINE, FARI BEACH CLUB AND FOOD TRUCKS

We just love the vibe of Fari Marina Village: built around an open space where bars and restaurants, an infinity pool and foot trucks are placed, this communal and vibrant beach club is a fascinating part of the islands for all visitors too. Cycle here to indulge into 4 restaurants and 3 food trucks, starting with ice creams or burgers to Michellin-starred cuisines as well as Japanese and Latin American cuisines. Just a chill out and hang out 
place for couples and families where you can also visit the Fari boutiques including retail by The Rake or join the fun in the infinity pool, with views towards the Marina. While you are there, don't forget to take a peek at art installation by world-renowned American artist James Turrell. The art piece, curated by The Artling is just one out of total of 6 island-based art pieces… are you able to find them all?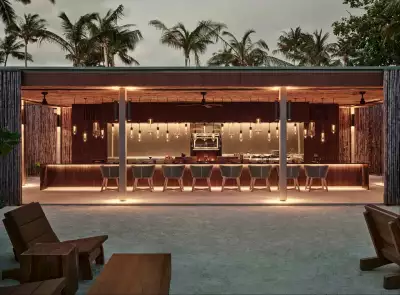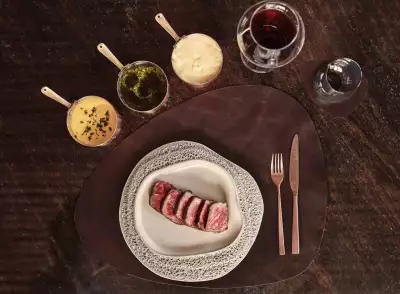 BRASA:
A rustic restaurant and bar exploring grill techniques originating from the Patagonian regions of South America. Feast within a 'hacienda of embers', where elemental ingredients are forged into delicious gestures of flame and flavor.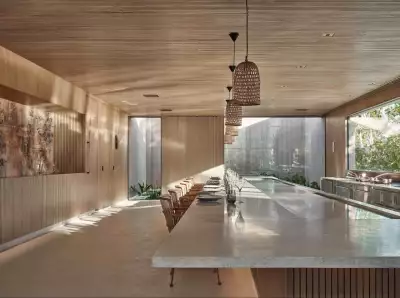 KŌEN:
An encounter intersecting Japanese culinary arts with Scandinavian approaches to premium ingredients. Our intention is to delight through a harmonious abstraction of ritual, senses and ideas presented as intimate performance.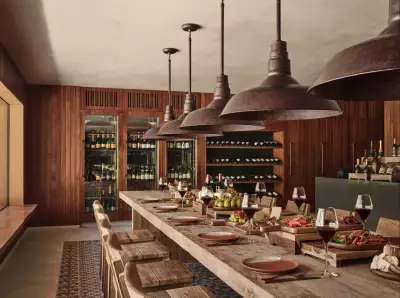 FARINE:
A peace-filled fine bakery and café embracing the care and intuitive attention to details found in great European bread and pastry makers. The space aims time to stand still, for details to be tasted rather than seen and for all things to have their perfect place to be.
FARI BEACH CLUB:
The ultimate Maldivian beach house, blending the elements of relaxed luxury and a timeless island feel. Missing quality bites by the pool? Fari Beach Club has you covered, since the very same outlet transforms by night with elevated, Michelin-starred curated menus.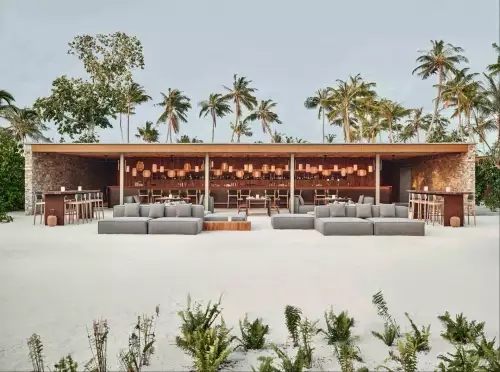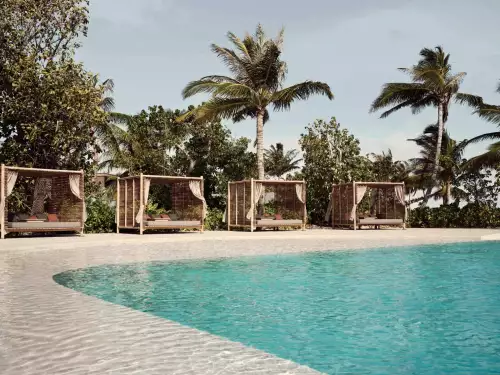 FOOD TRUCKS – GELATO | GOGO BURGERS | TUMTUM
Take a stroll on your bicycle throughout the island and spot one of these trucks. Enjoy juicy burgers to Asian street food served right in front of you. Relax by the infinity pool of Fari Marina Island and end the day with an ice-cream of unbelievable flavors.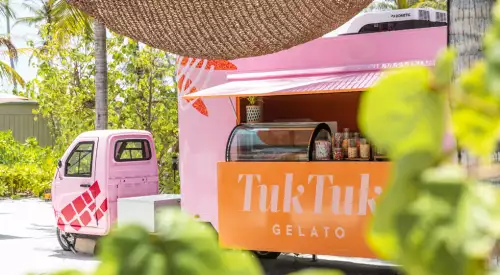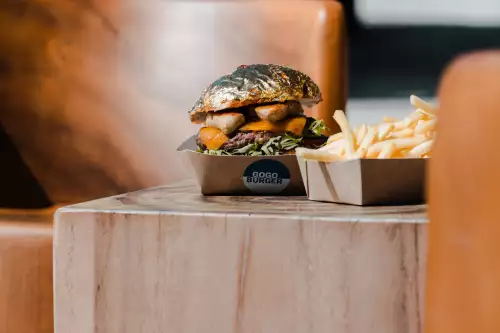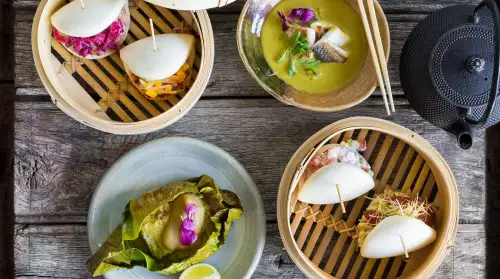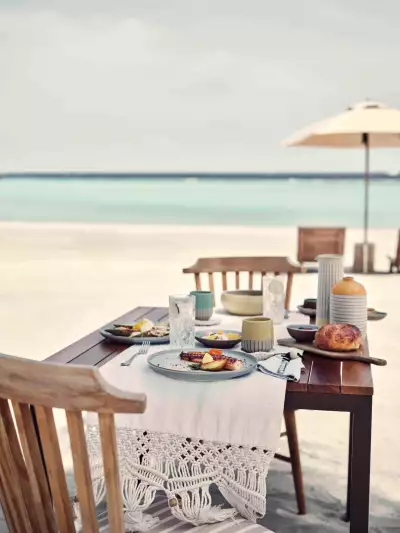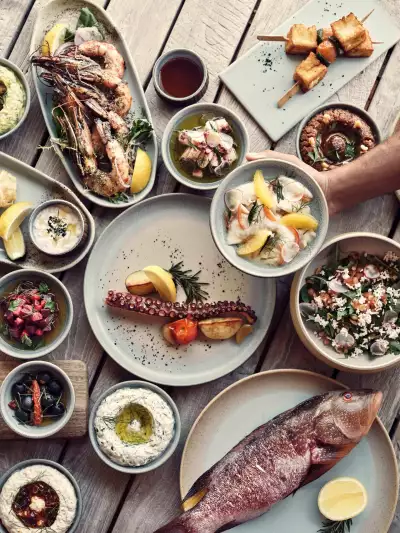 3.THE BEST SUNSET SPOT: HELIOS
There is always this one place, away from the others, where listening to the gentle lapping of the waves and enjoy dinner at silence… For us this is Helios, a nourishing Greek kitchen and gathering place that celebrates the sun's journey across the Maldivian sea. The heart of its philosophy is to share the eternal conversation between the timeless cuisine of the Mediterranean and an ever-changing landscape of the freshest ingredients that we all love. And that sunset…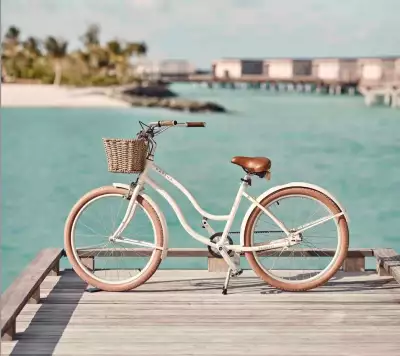 SEEDING NEXT-GEN SUSTAINABILITY IN THE MALDIVES
The environment was key to the development of Patina Maldives. To derive the best guest experiences from zero to no waste kitchens, up to recycling marine plastic, inviting kids to learn how to dive is testimonial to the commitment Patina Maldives has for sustainability and perpetuality.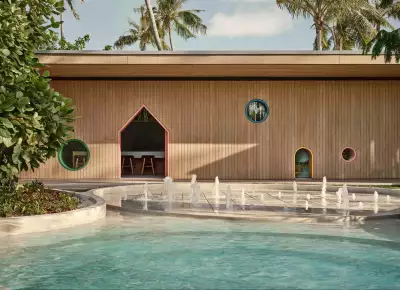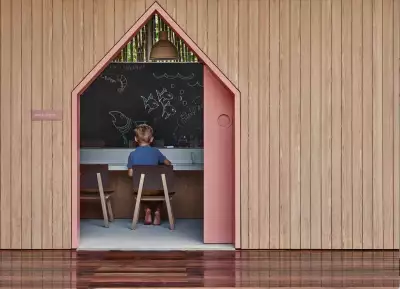 FOOTPRINT – Every Child's Dream
A joyful, green and happy space designed in a child's dream bring Footprint to life. Patina Maldives has an enhanced serious Kids Club to ensure your children are well-entertained during their stay on the island. This includes notably, 3D paintings using recycled plastic to PADI dive lessons to inspire the next generation the ability to live, learn and appreciate the marine life and the environment around them.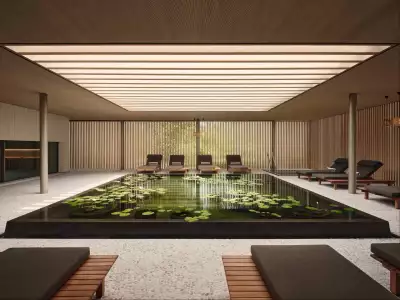 FLOW SPA
It's all about your well-being at Patina Maldives. Flow Spa at Patina concentrates on the quality, creativity and preventive remedies. Some of these treatments includes sleep therapy and bio hacking to restore your balance with notably the unique Watsu Pool for aquatic therapy.
Patina Maldives is indeed an elevated island destination for conscious travellers, art and architecture admirers and plant based cuisine lovers. Do not hesitate to ask us for a customized quotation to enter this imaginative immersion into a world of straight-line designs, outstanding villas and multiple restaurants to choose from.