Milaidhoo Island: 5 Ways how Milaidhoo reinvented Luxury [VIDEO-REVIEW]
5 Ways how Milaidhoo reinvented Luxury
Milaidhoo Reinvents Luxury
The authentic Maldivian traditions are of a bygone era when it comes to modern day luxury in many resorts. Milaidhoo's concept for a holiday or honeymoon in the Maldives is very different. Here is the story of how a Maldivian owned and managed island located in Baa atoll, a UNESCO Biosphere reserve 'Milaidhoo' reinvented luxury for all of us.
Written by: Shanoon Khalid
1. Luxury Inspired by Maldivian Traditions & Islands
What if the Sultans who ruled the Maldives hundreds of years ago were to come back now? Considering the Maldives was a strong trading route in the Indian Ocean with its interesting stories deeply rooted in history, Milaidhoo was built with one simple concept in mind 'Reversing Time'.
The island fully embodies the culture, spirit and heritage of the Maldives. The architecture and design of the resort resembles the Maldives as if you were to go back in time to experience what Maldives 'was'.
2. Spacious Outdoor Living
Most time on your honeymoon or holiday in the Maldives is spent in the privacy of your villa. No wonder why the spacious villas of Milaidhoo are such a highlight.
Milaidhoo's uniquely positioned beach villas with oversized private pools are semi-curved, 290 sqm private residences allowing the outdoor right into your bedroom.
Each villa opens up to 180 degrees letting the natural beauty of the Maldives to be part of your room. The bedroom, the outdoor deck, the pool, the vegetation, the beach and the ocean all seem infinitely connected.  These villas were built with comfort in mind and every piece of furniture and artwork was custom-made by master-craftsman.

3. Are you in a Good Mood?
Your emotional state of mind is not an area less focused on Milaidhoo. Different moods affect your feelings. Milaidhoo's 'Mood Dining' is a curious experience you should not miss.
There are 5 types of Moods you can choose:
'Deep Sleep'

'Getting into the Milaidhoo Mood'

'Sunrise Awakening'

'Curious Adventures'

'Sunset Chill'.
Each of the above Moods consists of a curated menu as certain foods are meant to affect your body chemistry. Given the high levels of sleep deprivation in the modern world, the most popular mood dining option to date is the 'Deep Sleep' mood. After a great dinner at Ba'theli by the Reef, one of the best fine dining restaurants in the Maldives, a good sleep is guaranteed.

4. Swimming with Gentle Gigantic Giants
The unique location of Milaidhoo guarantees not only a resort with great house reef in the Maldives. It also makes it easier to visit 'Hanifaru Bay', a marine protected area in Baa atoll where hundreds of Manta Rays visit from April to October. This sanctuary is only 20 mins from Milaidhoo Island. Swim next to these 'gentle gigantic giants' with flapping fins that pose no threat to humans. The Manta Rays are sometimes 04 to 08 meters in size weighing up to 1,600 kilograms. To conserve the environment and avoid disturbing the Manta Rays, visits are carefully managed and limited to a small number of visitors every day.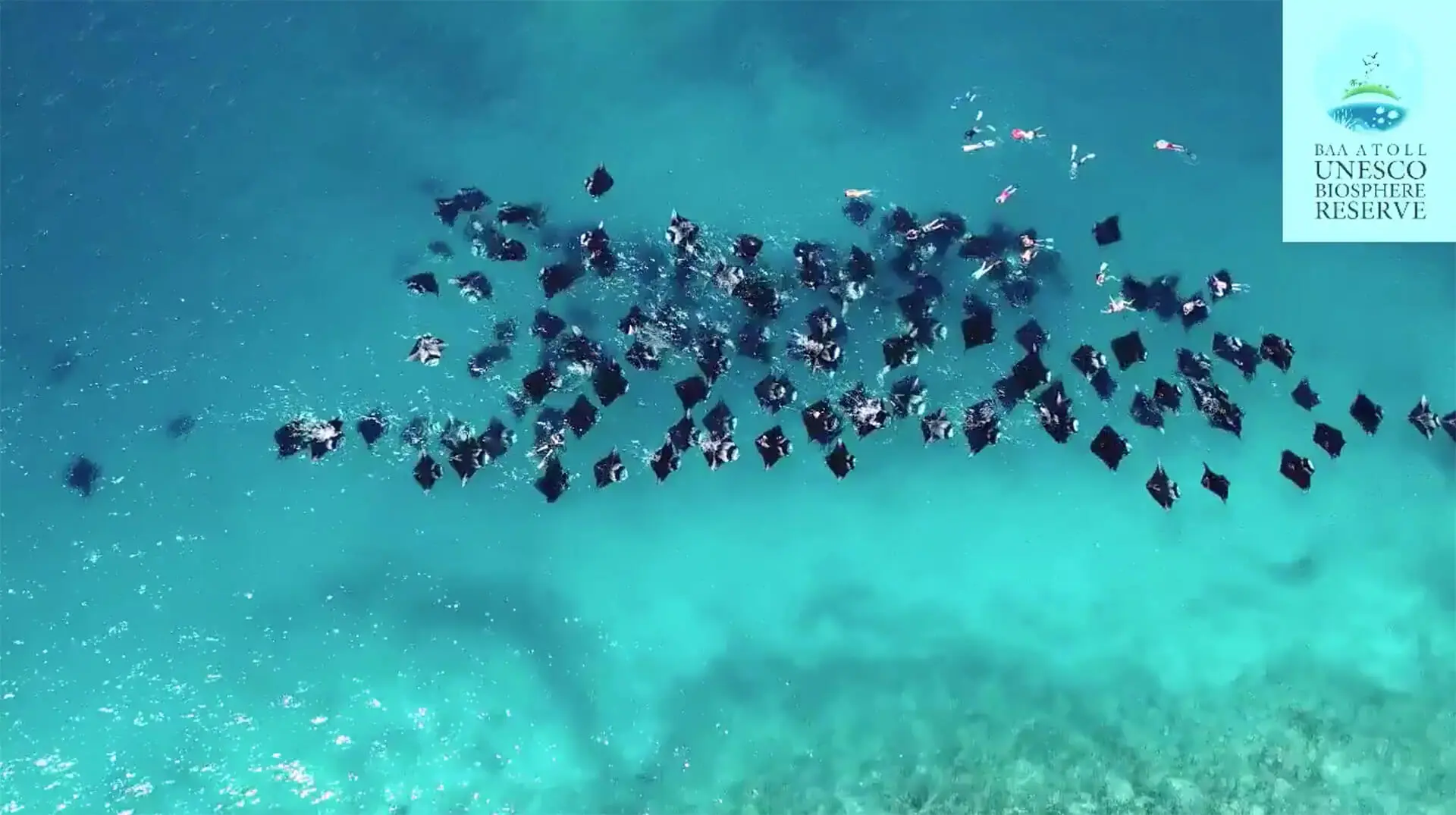 5. The Milaidhoo Family
Milaidhoo offers privacy, design and Maldivian traditions. Personalized service to every guest is easily managed by over 250 staff members to look after 50 rooms. This honeymoon destination has won many awards for service excellence and we are not surprised at all.
Shuhan, a proud Maldivian and the General Manager of Milaidhoo ensures he and his team tailor 'Meaningful Experiences' around your needs. Milaidhoo is not so much of a hotel but an island that speaks to your physical and emotional desires. The joy of island living shines through in all you do, making it a place that you truly belong.
Shuhan, the General Manager of Milaidhoo Island with Shanoon, the Maldives Travel Counsellor from Adore Maldives